COMMUNION of SAINTS II – Purple Crazy Lace Agate / gemcuts – rosary (8 mm. – 19.5 in.) – RDCW.21120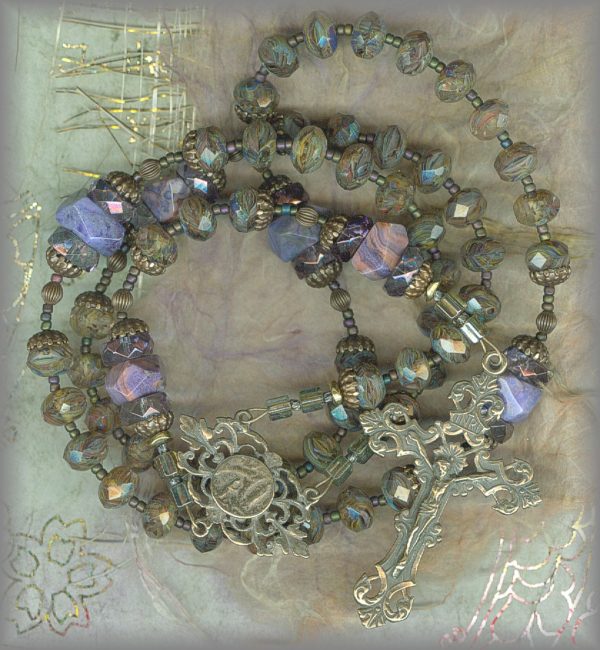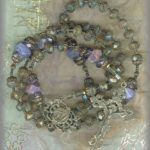 Description
COMMUNION of SAINTS 
AVE BEADS: 8mm "Gem cuts" with rich variegation that pick up not only the amethyst but other soft colors as well.
PATER BEADS: Faceted Purple Crazy Lace Agate chunks. Each faceted chunk of Purple Crazy Laced Agate carries a different design, no two alike.
CRUCIFIX:  LARGE FANCY – antique, France/1880s – (2.25 in.)
CENTER: BERNADETTE / FLEUR (new) – EUROPE / 19 c – ( 1.25 in. )
---
….. As a body is one though it has many parts, and all the parts of the body, though many, are one body, so also Christ.For in one Spirit we were all baptized into one body, whether Jews or Greeks, slaves or free persons, and we were all given to drink of one Spirit. Now the body is not a single part, but many. The eye cannot say to the hand, "I do not need you," nor again the head to the feet, "I do not need you." ….. 1 CORINTHIANS 12-14,21  
---
CCC on COMMUNION OF SAINTS # 1474 – The Christian who seeks to purify himself of his sin and to become holy with the help of God's grace is not alone. "The life of each of God's children is joined in Christ and through Christ in a wonderful way to the life of all the other Christian brethren in the supernatural unity of the Mystical Body of Christ, as in a single mystical person." (Also see 1475, 1476, 1477
---
ALL OUR MEDALS: All our medals are handcast from antiques and vintage pieces in sterling silver and solid bronze then antiqued to restore original patina.
---
PRICING SUBJECT TO CHANGE WITHOUT NOTICE (pricing determined by gram wt of precious metal at time of casting)
20% DISCOUNT APPLIED BELOW UNTIL GONE
Bronze: ($222) your special price $177.60
Sterling: (320) your special price $256
PRICING SUBJECT TO CHANGE WITHOUT NOTICE: (pricing determined by gram wt of metals at time of casting)