REDEMPTIVE SUFFERING ROSARY – Black Onyx & Jet gemcuts – (20 in.) – RDCW.21140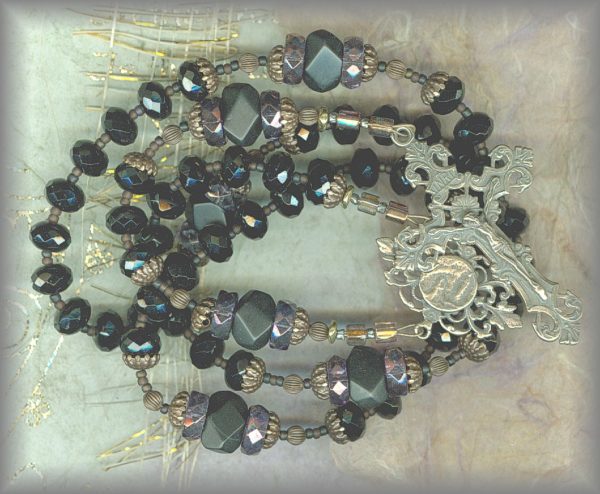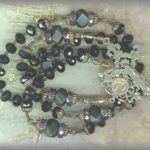 Description
REDEMPTIVE SUFFERING 
AVE BEADS: 8mm Jet faceted gem cuts.
PATER BEADS: Deep, rich jet black faceted chunks of onyx surrounded by faceted amethyst rondelles and antiqued metal caps keep their visual strength.
CRUCIFIX:  LARGE FANCY – antique, France/1880s – (2.25 in.)
CENTER: BERNADETTE / FLEUR (new) – EUROPE / 19 c – ( 1.25 in. )
---
…1 Faith is the realization of what is hoped for and evidence 2 of things not seen. 2  Because of it the ancients were well attested. 3  By faith we understand that the universe was ordered by the word of God, 3 so that what is visible came into being through the invisible… HEBREWS 11:1-3 
---
CCC on REDEMPTIVE SUFFERING #1505 – The Catechism of the Catholic Church encourages and reminds us of our vocation: "By His passion and death on the Cross, Christ has given a new meaning to suffering: it can henceforth configure us to Him and unite us with His redemptive passion"
---
ABOUT OUR MEDALS: All our crucifixes, crosses, rosary centers and medals are hand cast from antique and vintage pieces in sterling silver and solid bronze then antiqued to restore original patina.
---
PRICING SUBJECT TO CHANGE WITHOUT NOTICE (pricing determined by gram wt of precious metal at time of casting,)Beads limited, unable to replace.
20% DISCOUNT APPLIED UNTIL GONE
Bronze: ($226) your special price $180.80
Sterling: ($324) your special price $259.20
PRICING SUBJECT TO CHANGE WITHOUT NOTICE: (pricing determined by gram wt of metals at time of casting)