BROTHER ANDRE I – (Canada) – oil beads / swarovski – rosary (8 mm. – 21 in.) – RDBA.21110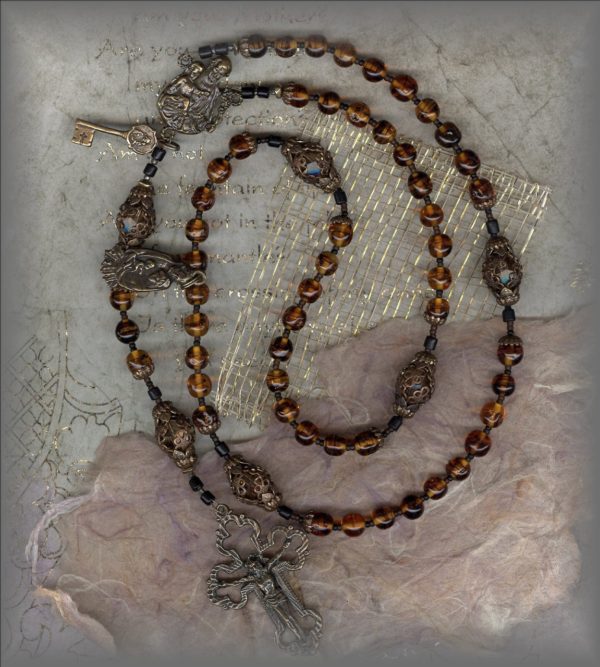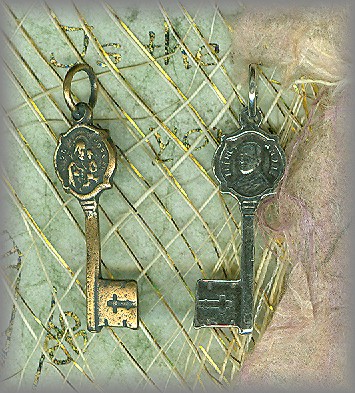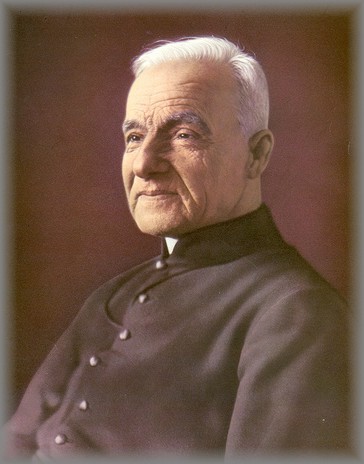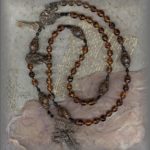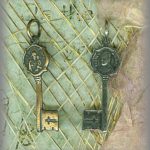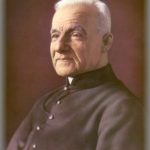 Description
BROTHER ANDRE (9 Aug 1845 – 6 Jan 1937) 
Canonized St Andre Bessette CSC –  Oct 17, 2010
AVE BEADS: Handmade "Oil' beads.  OLD LAMPWORK 'OIL' BEADS Well over 60 years ago a German Glass Beadmaker, Willie Wilhelm reheated glass canes or rods over an oil lamp. With this molten glass he formed each one, one at a time, until they became these beautiful yet simple prayer beads. We were blessed to find them through a favorite vender Tomas so they could be brought to our site as a rosary. Perfect with their fine lines of black to remind us of the garment of Bro Andre.
PATER BEADS: Faceted Swarovski crystal. Note the filigree caps have 5 little rings symbolizing the five wounds of Christ open to the love of God the father.
CRUCIFIX: OPENWORK CRUCIFIX – vintage, unknown – (2 in.)
CENTER:  ST JOSEPH / CHILD JESUS – vintage, age/era unknown – (center – 1 in.)
MEDAL: FIGURAL HOLY FAMILY- vintage, unknown – (1 in.)
KEY:  KEY – BESSETTE – (St Joseph) – Canada (1.25 in)"
---
…..Honor St Joseph, bring Glory to God…..Brother Andre
---
WHO WAS BROTHER ANDRE?  
GIVING ST JOSEPH THE GLORY 
"He was only a porter — a doorman — at a college owned and operated by his religious congregation. He was a little man, both in size and, if one were to judge by appearance, in importance. He was not a priest; therefore he could neither offer Mass nor preach. Because of poor education, he did not know how to read or write until he reached the age of twenty-five." Inspired by the ancient tradition of anointing with oil, he would take the oil from the lamp burning in front of the statue of St Joseph to anoint the sick, people were healed.
---
COMES WITH DOORKEEPERS KEY (reminder to pray for a special person)
---
PRICING SUBJECT TO CHANGE WITHOUT NOTICE
(pricing determined by gram wt of precious metal at time of casting)
20% DISCOUNT APPLIED BELOW UNTIL GONE
ROSARY: 
BRONZE: ($294) your special price $235.20
STERLING: ($408) your special price $326.40
PRICING SUBJECT TO CHANGE WITHOUT NOTICE: (pricing determined by gram wt of metals at time of casting)