FATHER JUAN PEREZ – Blue Padre Bead rosary (10mm – 14 in) – RTB.21160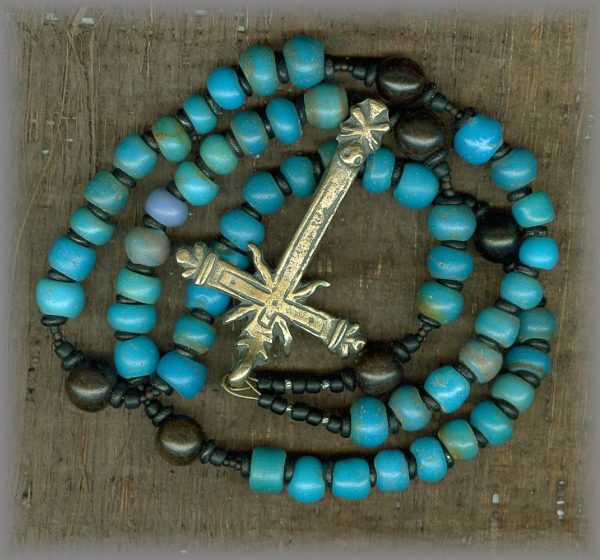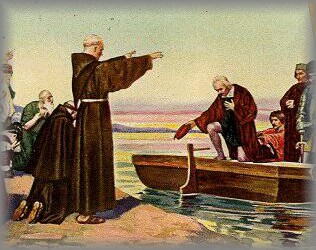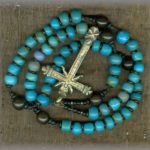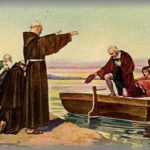 Description
FATHER JUAN PEREZ
AVE BEADS: The Blue Padre trade beads in this series are late 1800's early 1900's. The most sought after color for trade and information with the Indians  To the North, traded by the French Jesuits for beaver pelts along with otter and seal on the West Coast and to the south,  for supplies.
PATER BEADS: 10mm Simple dark wood.
CROSS:  VICTORY OVER ADAM's SIN – late 1700's – (2.5 in.) Cast from a piece over 100 years old.
The rosary is made all in one loop following tradition. This design also does not tangle or knot as easily as the pendant design.
---
A Franciscan Friar who encouraged Queen Isabella to send Columbus West without
further delay (1491) searching for a route to India. Fr Perez blessed and gave holy communion to Columbus and the crew of the two Caravels , 'Nina' and 'Pinta' and the Cargo ship (Carrack), 'Santa Maria de la Conception' – before leaving . He would accompany Columbus on his second trip, bringing the authority of celebrating the first Mass on the shores of America at Point Conception (Haiti).
We encourage you to re dedicate this rosary to any one you choose. Just say your first prayer for Fr Perez! Thanks!
---
ALL OUR MEDALS: All our medals are handcast from antiques and vintage pieces in sterling silver and solid bronze then antiqued to restore original patina.
---
PRICING IS SUBJECT TO CHANGE WITHOUT NOTICE (prices determined by gram wt of precious metals at time of casting)
20% DISCOUNT APPLIED BELOW UNTIL GONE
BRONZE:($256) your special price $204.80
STERLING:($296) your special price $236.80
PRICING SUBJECT TO CHANGE WITHOUT NOTICE: (pricing determined by gram wt of metals at time of casting)