GATE of HEAVEN – 12 star cry/gold chaplet – (12 mm.. 6.5 in.) – CR22.5021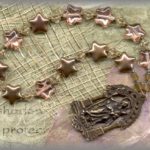 Description
GATE of HEAVEN and/or LITTLE CROWN of 12 STARS:
BEADS: Crystal with golden bronze stars. Top quality beads from Czechoslovakia. The 12 mm stars are beautiful reminders of our true home.
MEDAL: GATE of HEAVEN – antique, Spain/1800's – (1.75 in.)
---
This collection of 12 star beads was given by the Lord to a Guild member when her husband of 39 years died after a courageous battle with cancer. The sense of power that comes from the reading of the passages in Revelations, gave her a great sense of peace knowing his new joy. It became obvious that this was to be shared with others who may be terminal or are the care givers of those who are, including those who have recently lost a loved one.
---
……A great sign appeared in the sky, a woman clothed with the sun, with the moon at her feet and on her head a crown of twelve stars … ….REVELATION 12:1
---
LITTLE CROWN of 12 Stars his devotion to Our Lady is recommended by Saint Louis Marie de Montfort. The Our Father is prayed 3 times and the Hail Mary 12 times. Inspired by the crown of 12 stars around the head of Mary in Revelations 12.
---
ABOUT OUR METALS: Hand cast from antique medal in sterling silver and solid bronze then antiqued to restore original patina.
---
20% DISCOUNT APPLIED BELOW UNTIL GONE
BRONZE: ($110) your special price $88
STERLING: ($132) your special price $105.60
PRICING SUBJECT TO CHANGE WITHOUT NOTICE: (pricing determined by gram wt of metals at time of casting)