HEAVENLY GARDEN OF THERESE CHAPLET -10 Flowers & Amethyst Chunk – ( 9.5 in) – CTL.5621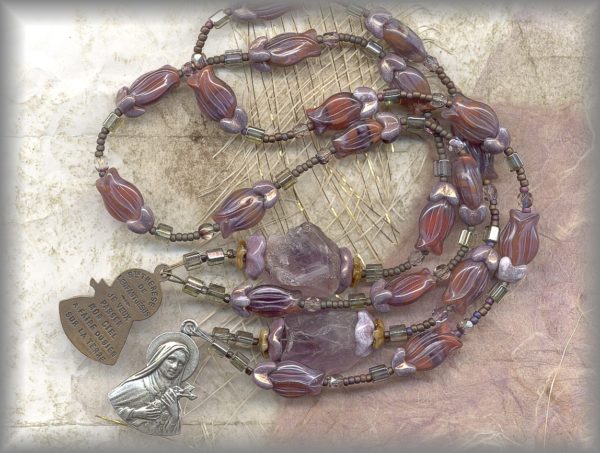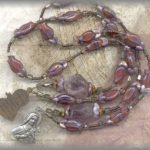 Description
"HEAVENLY GARDEN of THERESE'  – St Therese of Lisieux
AVE BEADS: 10 Flower shaped beads in shades of variegated purple and blue. A fine example of the old "pressed beads". Made in Czechoslovakia from antique glass bead molds. These lovely beads make us think of her heavenly garden… a glow beyond the colors on earth.
PATER BEADS: Our 'Garden Rock' is a rough cut chunk of heavenly Amethyst
MEDAL: THERESA PROFILE – antique, France/pre 1930's – (1.25 in.)
Chaplet is made in the traditional "all one loop" design without a center piece.
---
When we think of Therese' of the little flower we think of roses – flowers and are reminded of her words to the sisters before she left this world – how she would be of more help to them in heaven than on earth. She is often pinpointed when flowers appear out of nowhere. An answer to a prayer. A sign to an arid world. Each little flower has a heavenly, purple/blue glow.
---
……"Send forth flowers as the Lily, and yield a fragrance, And bring forth leaves in grace and praise with canticles, And bless the Lord in his works." Sirach 39:13-14 (Ecclesiasticus 39:18)
---
ABOUT OUR METALS: All medals we use are Hand cast from antique and vintage pieces in sterling silver and solid bronze then antiqued to restore original patina.
---
PRICING SUBJECT TO CHANGE WITHOUT NOTICE (pricing determined by gram wt of precious metal at time of casting)
20% DISCOUNT BELOW
BRONZE: ($142 your special price $113.60
STERLING ($154) your special price $123.20
PRICING SUBJECT TO CHANGE WITHOUT NOTICE: (pricing determined by gram wt of metals at time of casting)