ST PHILOMENA CHAPLET – 13 + 3 Beads- Antique Ruby Chrystal (6 in.) – CSPD.5080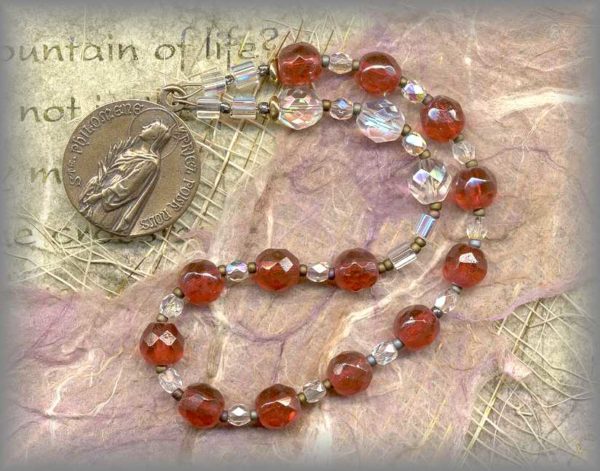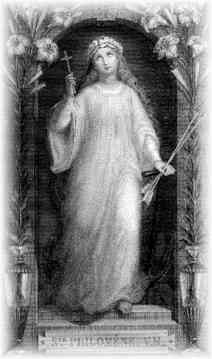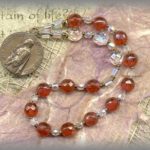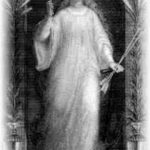 Description
ST PHILOMENA II CHAPLET: "TO THE DAUGHTER OF LIGHT, NOTHING IS REFUSED"
BEADS AND THEIR SYMBOLISM:
13 RED BEADS: 8 mm Faceted beads  – antique 20's – (Czechoslovakia)
3 CRYSTAL BEADS: 8 mm Crystal faceted beads with ab finish – antique – 50's – (Czechoslovakia)
MEDAL: STS. PHILOMENA and JOHN VIANNEY – vintage, unknown -(1 in.) ( St John Vianney is on the reverse side)
---
"My children, Saint Philomena has great power with God, and she has, moreover, a kind heart; let us pray to her with confidence. Her virginity and generosity in embracing her heroic martyrdom have rendered her so agreeable to God that He will never refuse her anything that she asks for us." — Saint John Vianney. She remains a mystery and questions abound, but her friends are many.Like St. Jude and St. Rita, St. Philomena is a patron of "hopeless" and "impossible" cases. But she is especially devoted to the needs of expectant mothers and those unable to conceive, destitute mothers, problems with children,orphans and problems in the home. We pray to her for the conversion of sinners and return to the sacraments, to intercede for the suffering. The sick and those with mental illness and the imprisoned. Priests pray to her for their vocation and works. She intercedes for food for the poor, for the missions, for real estate and financial problems.
---
PRAYERS:
MEDAL: Apostles Creed, ask for the grace of faith.
3 CRYSTAL BEADS: (Trinity, purity) on each, pray an Our Father in honor of the 3 Divine Persons of the Blessed Trinity in thanksgiving for all favors obtained through her intercession.
13 RUBY RED BEADS: (represent years on earth, martyrdom) Hail, O holy St. Philomena, whom I acknowledge, after Mary, as my advocate with the Divine Spouse, intercede for me now and at the hour of my death. St, Philomena, beloved daughter of Jesus and Mary, pray for us who have recourse to thee. Amen.
ENDING PRAYER: Hail, O illustrious St. Philomena, who shed so courageously your blood for Christ! I bless the Lord for all the graces He has bestowed upon you during thy life, and especially at your death. I praise and glorify Him for the honor and power with which He has crowned you, and I beg you to obtain for me from God the graces I ask through your intercession. Amen.
---
ALL OUR MEDALS: All our medals are handcast from antiques and vintage pieces in sterling silver and solid bronze then antiqued to restore original patina.
---
PRICING SUBJECT TO CHANGE WITHOUT NOTICE (pricing determined by gram wt of precious metal at time of casting)
20% DISCOUNT UNTIL GONE:
BRONZE: ($110) your special price $88
STERLING: ($132) your special price $105.60
PRICING SUBJECT TO CHANGE WITHOUT NOTICE: (pricing determined by gram wt of metals at time of casting)