STE ANNE, MOTHER of MARY CHAPLET (II) – Antique Rose Beads – (9.5 in) – C9G.51331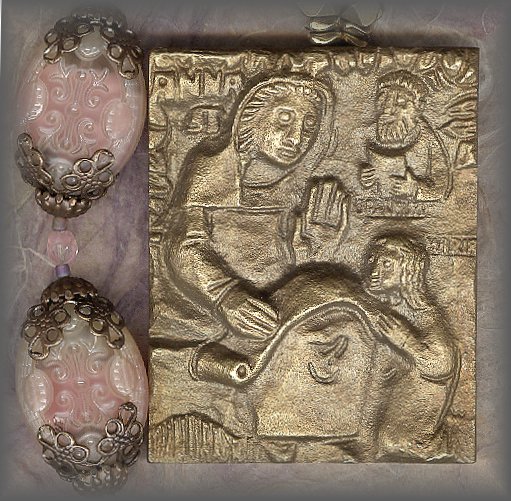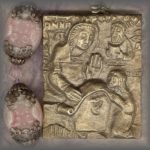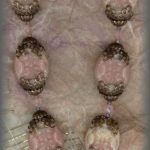 Description
STE ANNE – MOTHER of MARY CHAPLET – Feast day March 7
(Holy Family Series)
BEADS: Antique crystal beads with light rose inclusions of pressed glass from antique glass bead molds using vintage glass cane.
MEDAL: STE ANNE by medalist Egino Weinert.  (Medal 1.5 x 2 inches)
Available in the traditional 9 bead chaplet (3 sets of 3) or 10 bead chaplet.
---
HOW TO PRAY THE 9 BEAD CHAPLET 
 1 Our Father, Hail Mary and Glory be on each set of 3's.
---
MEDALIST: World renowned German artist, Egino Weinert, is a master in the field of sacred gold smithery, as well as a painter and sculptor. He has consigned pieces of art for Cathedrals and Churches throughout the world and is a favorite of John Paul II. Several of Mr. Weinert's original enamel works may be seen in the Galleria Moderna of the Vatican Museum.
---
STE ANNE: UNIVERSAL – Anne (Hebrew, Hannah – Grace) is the traditional name of the mother of the Blessed Virgin Mary. She was married to Jocham. Little is known about Mary's parents but Ste Anne has become one of the most popular saints in the church.St. Anne is the patroness of Brittany. She also is the principal patron of the province of Quebec, where there is a shrine, St. Anne de Beaupr? dedicated to her. She is the patroness of women in labor; and patroness of miners, since Christ is compared to gold and Mary to silver.
---
PRICING SUBJECT TO CHANGE WITHOUT NOTICE: (pricing determined by gram wt of metals at time of casting)
20% DISCOUNT APPLIED BELOW UNTIL GONE:
BRONZE ONLY: ($238) your special price $190.40
PRICING SUBJECT TO CHANGE WITHOUT NOTICE: (pricing determined by gram wt of metals at time of casting)