JOSEPH, FATHER of JESUS CHAPLET (II) -Bodhi Seed – (8 in.) – C9G.51332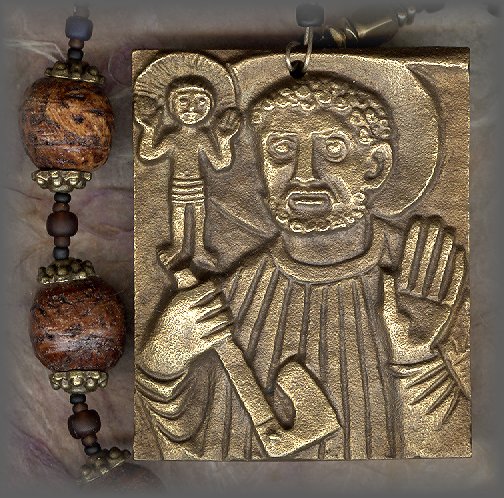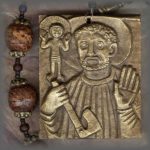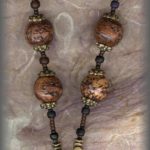 Description
ST JOSEPH CHAPLET- Feast day: March 19 and  May 1)
(Holy Family Series)
BEADS: Seeds from the Bodhi Tree capped with antiqued metal. Seeds with an ancient history of being a prayer bead. Spoken into existence through the mouth of God.
MEDAL: St Joseph  by medalist Egino Weinert.  (Medal 1.5 x 2 inches)
Available in the traditional 9 bead chaplet (3 sets of 3) or 10 bead chaplet.
---
HOW TO PRAY THE 9 BEAD CHAPLET  – 1 Our Father, Hail Mary and Glory be on each set of 3's.
---
MEDALIST: World renowned German artist, Egino Weinert, is a master in the field of sacred gold smithery, as well as a painter and sculptor. He has consigned pieces of art for Cathedrals and Churches throughout the world and is a favorite of John Paul II. Several of Mr. Weinert's original enamel works may be seen in the Galleria Moderna of the Vatican Museum.
---
ST JOSEPH, TEACHING FATHER of JESUS II: ISRAEL – (First century –  Foster father of Jesus, husband of Mary, Joseph is the model for fathers, families and parenting. Little is known of Joseph other than scripture. He was known as a "a righteous man" (Matthew 1:18). He was a compassionate man, loved the Lord and followed his lead as he lived his role as head of the household, protecting Mary and Jesus. He was a carpenter and taught Jesus his craft. When approached by the angel of the Lord, he was addressed as "son of David," a royal title used also for Jesus. He is also the patron saint of Workers(1 May).
---
PRICING SUBJECT TO CHANGE WITHOUT NOTICE: (pricing determined by gram wt of metals at time of casting)
20% DISCOUNT APPLIED BELOW UNTIL GONE:
BRONZE ONLY: ($162) – your special price $129.60
PRICING SUBJECT TO CHANGE WITHOUT NOTICE: (pricing determined by gram wt of metals at time of casting)