ICHTHYS (FISH) – (Butzon Bercker – Germany) (2 in. square) – GWC.6021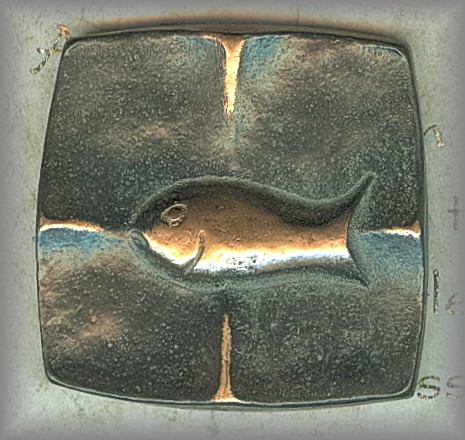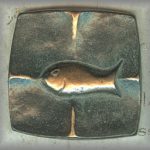 Description
SMALL ICHTHYS PLAQUE: Share this little wall plaque with a loved one on a special day – The polished fish with the fine cross back ground is powerful on the blackened background with green patina. Designed in the studios of Butzon and Bercker (Germany).
---
ICHTHYS: The Greek word for fish, ????? (ICHTHYS), is an acronym that was used by the early Christians as a shorthand symbol for their faith.
Iota (i) is the first letter of ??sous ('??????), Greek for "Jesus".
Chi (ch) is the first letter of Christos (?????ó?), Greek for "anointed" (of the Lord).
Theta (th) is the first letter of Theou (????), Greek for "God's", or (??ó?) the genitive case = the word of God.
Upsilon (y) is the first letter of (h)yios (??ó?), Greek for "Son".
Sigma (s) is the first letter of S?t?r (?????), Greek for "Saviour".
Meaning "Jesus Christ, Son of God, Savior"
---
SPECIAL GIFT for people coming into the church and for Confirmands and those receiving First Holy Communion. For marriages or any special event in one's life. Think too of someone entering into the religious life. A beautiful gift for those who have lost a loved one to remind them of the life to come after death. We give these as Christmas gifts and love seeing them hanging on the walls of those who receive them or place them on a desk.
---
ABOUT BUTZON BERCKER: In 1870, Butzon and Bercker began as a publishing company. By 1920 it began to produce fine religious art and in 1930, they started their own woodworking shop. By 1958, a foundary was established and they began to produce fine bronze religous art. There are over 80 artists, from blacksmiths to sculptors. Their work ranges from small, wearable pendants, to liturgical appointment for churches. All finishing work is done by 25 master artists, providing the buyer with the finest of work.
Part of our Creator Mundi Collection.
---
PRICING SUBJECT TO CHANGE WITHOUT NOTICE: (pricing determined at time of casting)
GWC.6021 = $39
NOW SOLD OUT  (UNABLE TO REORDER – DISCONTINUED)
(actual size: approx. 2 in. square)
PRICING SUBJECT TO CHANGE WITHOUT NOTICE: (pricing determined by gram wt of metals at time of casting)