PEACE BE WITH YOU (DOVE) PLAQUE (Butzon Bercker – Germany) (1.75 in. square) – GWC.6020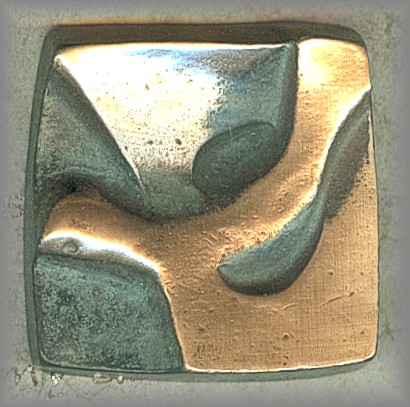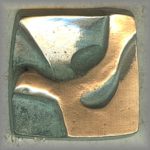 Description
PEACE BE WITH YOU (DOVE) PLAQUE: features an imaginative and creative depiction of a dove, a multi-faceted symbol reminding us of God's grace and covenants as well as His enduring presence in the Holy Spirit. The plaque itself is solid bronze and is versatile and compact at 1.75 inches square and is about 8 ounces in weight. It can be placed on a desk at work, or have a comforting position on a nightstand. The texture of the piece is remarkable, with the dove itself made of solid, radiant bronze and slightly elevated above the rest of the plaque. The rest of the plaque features an earthy, organic patina that mixes green and dark brown. The Peace Be with You Plaque is a beautiful example of hand-crafted work by an artisan in the old-world style: it is tangibly suffused with the profound spirituality of the artist. This plaque makes an excellent Christian gift for all seasons, but is especially appropriate at Confirmation.
---
My Peace I Bring to You.
Peace is a cornerstone of Christ's message, and in an era that does not necessarily value peace, artistic reminders of Jesus' many exhortations to peace are powerful Christian gifts. Peace I leave with you; my peace I give you. I do not give to you as the world gives. Do not let your hearts be troubled and do not be afraid. (John 14:27). The dove, of course, has a multi-faceted history in the symbolism of our faith. The first connotation, of course, is after the Flood when a dove alights with an olive branch as a symbol of God's renewed covenant with humanity. Additionally, the dove reminds us of the Holy Spirit, and God's enduring presence in the deep fabric of our life. Whether as a gift to help your own devotion to God and the Holy Spirit, or as a Confirmation gift for a young person, the Peace Be with You Plaque is a compact but powerful gift.
This solid bronze plaque makes a great Catholic gift, celebrating the multi-faceted symbol of the dove in our faith. The dove is a reminder of God's promise to Noah, as well as a reminder of his enduring presence in the Holy Spirit.
---
ABOUT BUTZON BERCKER: In 1870, Butzon and Bercker began as a publishing company. By 1920 it began to produce fine religious art and in 1930, they started their own woodworking shop. By 1958, a foundry was established and they began to produce fine bronze religious art. There are over 80 artists, from blacksmiths to sculptors. Their work ranges from small, wearable pendants, to liturgical appointment for churches. All finishing work is done by 25 master artists, providing the buyer with the finest of work.
Part of our Creator Mundi Collection.
---
PRICING SUBJECT TO CHANGE WITHOUT NOTICE: (pricing determined at time of casting)
AVAILABLE IN BRONZE ONLY:
GWC.6020 = $39
ONLY (6) LEFT IN STOCK (AVAILABLE TO BACK ORDER – ALLOW 1-2 WEEKS)
*NOTE:  THIS PRODUCT MAY REQUIRE ADDITIONAL POSTAGE FOR SHIPPING, DUE TO THE SIZE & WEIGHT OF THE ITEM. (It may have to be shipped USPS Priority Mail instead of First Class Mail) If so, you will be quoted the price in your order confirmation. 
(actual size: 1.75 in. square)
PRICING SUBJECT TO CHANGE WITHOUT NOTICE: (pricing determined by gram wt of metals at time of casting)