IN GOD'S HAND – (Maria Laach – Germany) – (6.5 in) – CNM.5710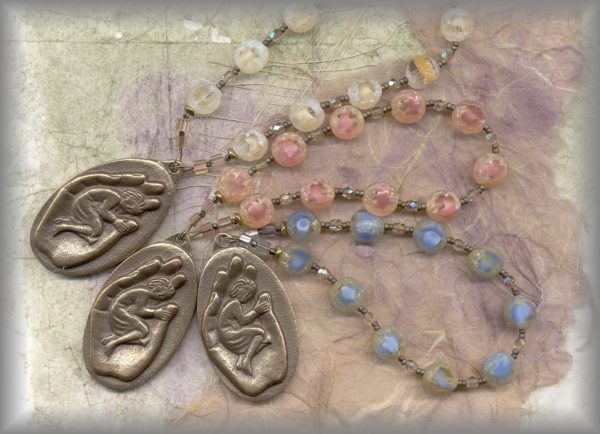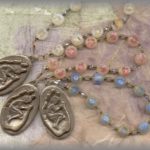 Description
IN GOD'S HAND: NATIVITY OF MARY SERIES
BEADS: 10mm "Tri cut" or "three window" beads are from antique glass cane and formed in old glass bead molds.
Available in 3 colors.  Crystal with inclusions of either rose, light blue or cream and have a matted surface texture. They are a reminder of the Holy Trinity; Father, Son and Holy Spirit.
MEDAL: A precious medal from the Monastery of Maria Laach (Germany) picturing the hand of God holding one of his children. A beautiful reminder of his protection of the preborn and his children of any age who may be hurting from pain, illness or disease.
I Originally purchased one at Maria Laach Abby and it did not have the ring on it, it was meant to hold in your pocket as a reminder of God holding you in his hand at all times. We have tried to find this precious metal for several years and finally, we are able to get them!
---
PERFECT FOR GRANDMAS, GRANDPAS, PARENTS, LOVED ONES to use to pray for the continuous care and protection of the Lord in their children's lives regardless of their age. Especially in times of need, during illness or for special intentions. And for babies on their way, especially those who are threatened by abortion.
---
ABOUT THE MONASTERY OF MARIA LAACH: For over 50 years Maria Laach has offered religious cards, icons, and bronzes of high quality. There are about 80 Monks, assisted by Lay people in the production of these works sold all over the world. The grounds of the Monastery are also a sign of their large agricultural business. Their more recent works include gates and garden art. Our visit in 2007 gave us an incredible sense of this very blessed community.
---
PRICING SUBJECT TO CHANGE WITHOUT NOTICE: (pricing determined by gram wt of metals at time of casting)
20% DISCOUNT APPLIED BELOW UNTIL GONE:
BRONZE ONLY ($152) – Your special price $121.60
PRICING SUBJECT TO CHANGE WITHOUT NOTICE: (pricing determined by gram wt of metals at time of casting)