SMOKE of the INCENSE CHAPLET – Staurolite & Terra Cotta – (10 in.) – CWSP.5512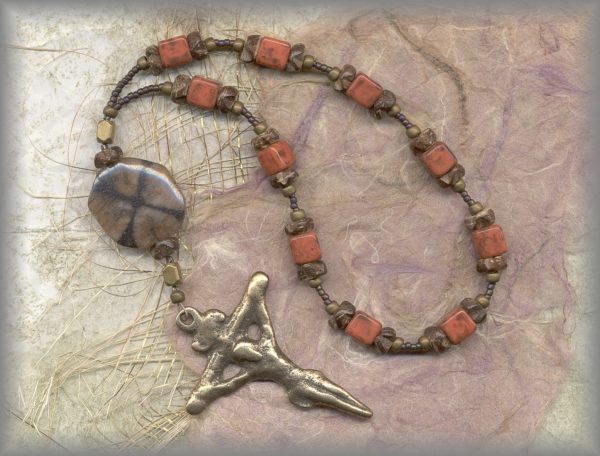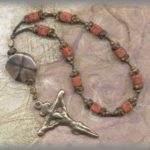 Description
SMOKE OF THE INCENSE:
AVE BEADS: Antique, variegated terracotta cubes with carved wood.
PATER: Staurolite slab. Staurolite is a beautiful work of nature that creates a cross when being formed. The name comes from the Greek, stauros – "cross" and lithos – "stone" in allusion to the common cross shaped twins of the crystals.
CRUCIFIX: EVANGELIZATION CRUCIFIX – Spain, 1600 s – 1800's (2.45 in.)
Hand cast antique. We have listed this as 'Latin America 19c' but because of its worn surface we believe it may be as early as the 16c. Items similar to this were brought to New Spain (Latin America) with the influx of New World explorers such as Cortez. Franciscans along with other religious orders who traveled with the explorers, brought religious objects (sacramentals) with them on the ships as visual aids for the indigenous in the process of evangelization. It was probably cast in quantity and is not a work of art which adds to its primitive and natural beauty.
RARE AND ANCIENT CRUCIFIX: The original of this cross may well have been lost at sea only to have been washed up after being worn down by time and sand then deposited on the shore for someone to find hundreds of years later – the history is lost, we can only wonder what it would say if it could talk.
---
ABOUT OUR MEDALS: All medals on our website are hand cast from antiques and vintage pieces in sterling silver and solid bronze then antiqued to restore original patina.
---
PRICING SUBJECT TO CHANGE WITHOUT NOTICE: (pricing determined by gram wt of metals at time of casting)
20% DISCOUNT APPLIED BELOW UNTIL GONE:
BRONZE: ($170) – your special price $136
STERLING: ($210) – your special price $168
PRICING SUBJECT TO CHANGE WITHOUT NOTICE: (pricing determined by gram wt of metals at time of casting)