"JOY OF MINE ROSARY – Ancient Carnelian Paters (24 in.) – LEA.21670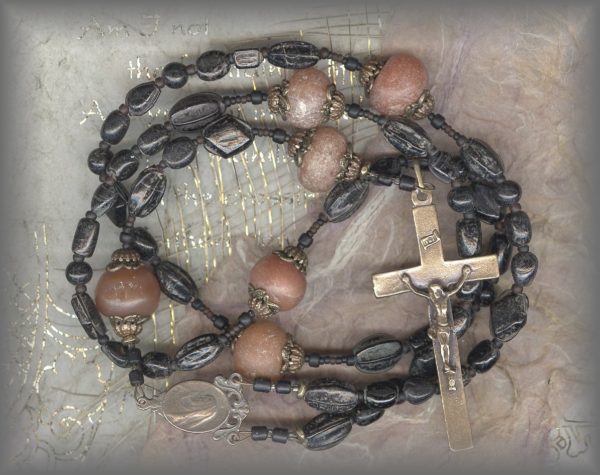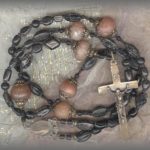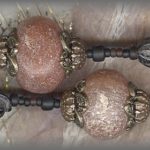 Description
JOY OF MINE 
AVE BEAD: Rare old black hand pressed glass beads from our private collection, unable to get more when gone. Each one different, reminding us of the ancient rosaries made up of collected mismatched rocks.
PATER BEAD: From the "Djenne beaded collection (pre 1500's) – ancient Carnelian. Never to be found again. From our private collection.We found many more old ones in Venice in different little shops and will be using them soon in more rosaries, chaplets and necklaces, but these were among the most treasured!
CRUCIFIX:  XL PLAIN CRUCIFIX – Europe / late 19c – (2.5 in.)
CENTER: OUR LADY – SCARED HEART CENTER – antique, Europe/late 19c – (1 in.)
---
DJENNE BEADS: Ancient African trade beads from Mali found in an ancient dig. In the book HISTORY OF BEADS, (Lois Sherr Dubin) mentions that the excavations revealed shapes and raw materials represented those stone beads believed exported from India to Western Asia and Africa before the Christian Era. She mentioned that some beads found may be African made, 'Indian stone bead making originated about 6500 BC" and 'Most bead making techniques remain unchanged'.
---
…. John answered and said, "No one can receive anything except what has been given him from heaven. You yourselves can testify that I said (that) I am not the Messiah, but that I was sent before him.  The one who has the bride is the bridegroom; the best man,  who stands and listens for him, rejoices greatly at the bridegroom's voice. So this joy of mine has been made complete.  He must increase; I must decrease."…. JOHN 3:27-30
---
METALS: All our medals are hand cast from antiques in solid bronze, sterling and white bronze. All antiqued to restore original patina
---
PRICING SUBJECT TO CHANGE WITHOUT NOTICE (pricing determined by gram wt of precious metal at time of casting.
20% DISCOUNT APPLIED UNTIL GONE
BRONZE: ($316) your special price $252.80
STERLING: ($550) your special price $440
PRICING SUBJECT TO CHANGE WITHOUT NOTICE: (pricing determined by gram wt of metals at time of casting)