REPAIRER of the BREACH IV ROSARY – Antique Bronze & Coral – (27 in.) – LEA.21157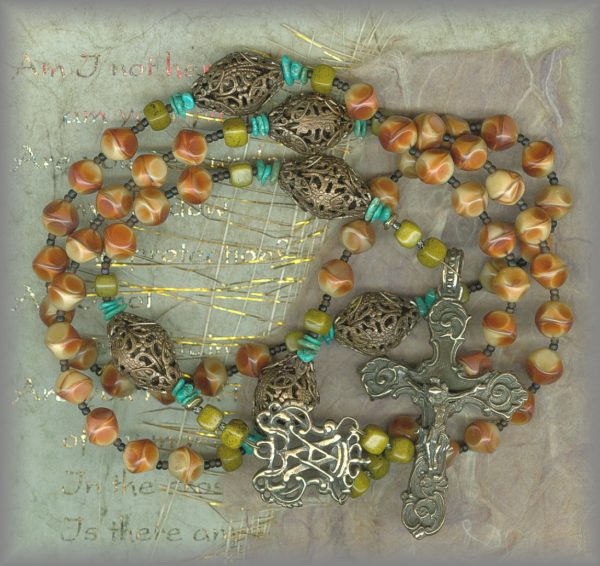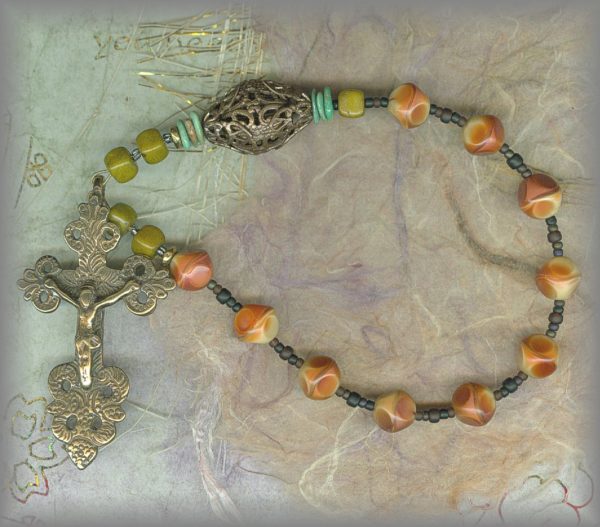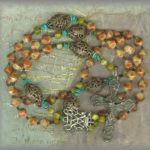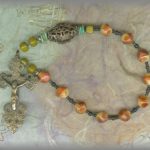 Description
REPAIRER of the BREACH 
AVE BEAD: 8mm Antique (1920's – 40's (Gablonz) soft cornered glass cubes with variegated colors of coppers, creams and bronzy corals are rare. A remarkable bead – when you stop to think that each one was hand made. These rare beads are called 'pressed beads' which means each was made from glass rods or cane that has been softened through re-heating, then put in a mold to be formed. This requires a master in glass bead making.
PATER BEAD: 12mm Antiqued filigree metal surrounded by turquoise chips and antique moss cubes.
CRUCIFIX: ELEGANT – antique, Europe/unknown – (2.5 in.)
CENTER:  AVE MARIA CROWN CENTER – late 1800s – Spain / Latin America – (.75 in.)
CHAPLET CRUCIFIX: SMALL CHILD'S CRUCIFIX – New Spain, 1700's (2.25 in. H x 1.25 in. W)
---
……He will renew your strength, and you shall be like a watered garden, like a spring whose water never fails.  The ancient ruins shall be rebuilt for your sake, and the foundations from ages past you shall raise up; "Repairer of the breach," they shall call you, "Restorer of ruined homesteads."..… ISAIAH 58:11
---
ABOUT OUR METALS: All crucifixes, crosses and medals on our site are hand cast from antiques and vintage pieces in sterling silver and solid bronze then antiqued to restore original patina.
---
PRICING SUBJECT TO CHANGE WITHOUT NOTICE. (pricing determined by gram wt of metal at time of casting).
20% DISCOUNT APPLIED UNTIL GONE
ROSARY:
BRONZE: ($284) Your special price $227.20
STERLING ($498) Your special price $398.40
WHITE BRONZE($230) -Your special price $184
CHAPLET:
BRONZE: ($108) your special price $86.40
STERLING: ($160) your special price $128
PRICING SUBJECT TO CHANGE WITHOUT NOTICE: (pricing determined by gram wt of metals at time of casting)