GREAT PESHTIGO FIRE ROSARY -"LINE of FIRE" – (Wi) – Antique White Beads & Austrian Crystal- (21 in.) – RDPF.21172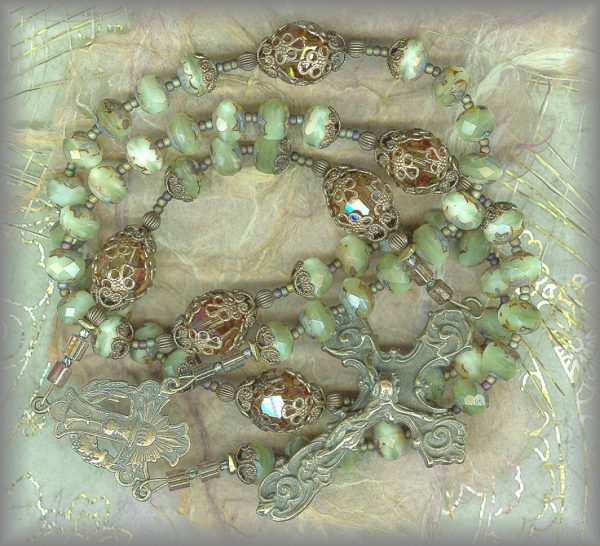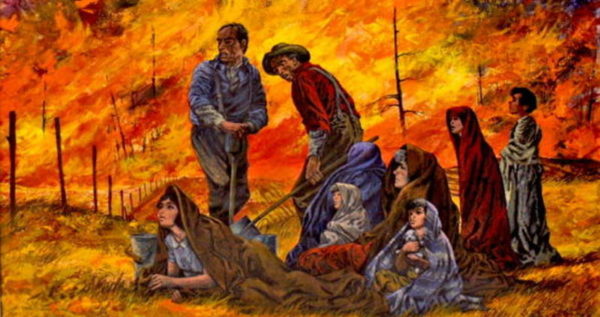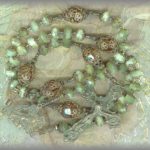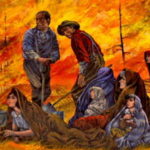 Description
"LINE of FIRE" GREAT PESHTIGO FIRE OF 1871:
(Natural Disaster Series)
AVE BEADS: These rare, old antique 8m faceted beads have been dated by our vender as being from the late 19c, about the time of the apparition. They are from our private collection, just waiting for that perfect rosary and we believe this is the perfect place. Note under some light, there is a faint, green cast to the creamy white beads. Green symbolizes growth which is a beautiful reminder of how the line of fire stopped at the fence.
PATER BEADS: 12mm Golden faceted Swarovski Crystal capped with antiqued metal filigree to give a richness. Again, the choice of color symbolizes Our Lady's golden sash on a white garment with a hint of the glowing fiery, orange sky that was to come 12 years later.
CRUCIFIX:  ELEGANT – antique, Europe/unknown – (2.5 in.)
CENTER:  1900 / EUCHARIST CENTER – Europe/1900
---
INSPIRED BY: The line of fire stopping at a white picket fence saving the church and people through the rosary and prayer for salvation. This fire was the same fire that burned Chicago and Peshtigo on Sunday, October 8, 1871 – all at the same time, 12 years to the day after the Apparition of Our Lady October 8, 1859.
---
Dedicated to 'Our Lady of Good Help / Queen of Heaven' who appeared to Sister Adele Brise in Champion Wisconsin, then called Robinsonville, on October 8. 1859. The first approved apparition of our Lady in the US by the Vatican (Dec.8 2010 – on the feast day of the Immaculate Conception of our Lady) and now rates with Lourdes, Fatima and Guadalupe. (see her words below)
MARY'S MESSAGE TO SISTER ADELE – " I am the Queen of Heaven, who prays for the conversion of sinners, and I wish you to do the same. You received Holy Communion this morning, and that is well. But you must do more.
Make a general confession and offer Communion for the conversion of sinners. If they do not convert and do penance, my son will be obliged to punish them."
---
ALL OUR MEDALS: All our medals are handcast from antiques and vintage pieces in sterling silver and solid bronze then antiqued to restore original patina.
---
PRICING SUBJECT TO CHANGE WITHOUT NOTICE (pricing determined by gram wt of precious metal at time of casting) Beads limited, unable to replace when gone.
20% DISCOUNT APPLIED UNTIL GONE
ROSARY
BRONZE: ($314) your special price $251.20
STERLING: ($508) your special price $478.40
PRICING SUBJECT TO CHANGE WITHOUT NOTICE: (pricing determined by gram wt of metals at time of casting)