STILL of the EVENING IV ROSARY- Rosy Faceted Pearls & Filigree – (22in.) – RST.21180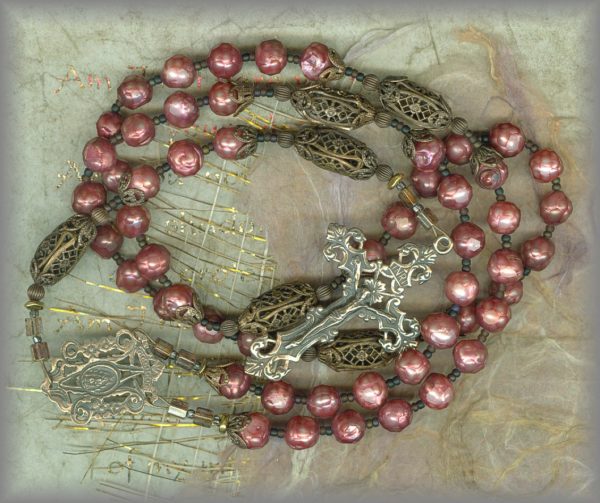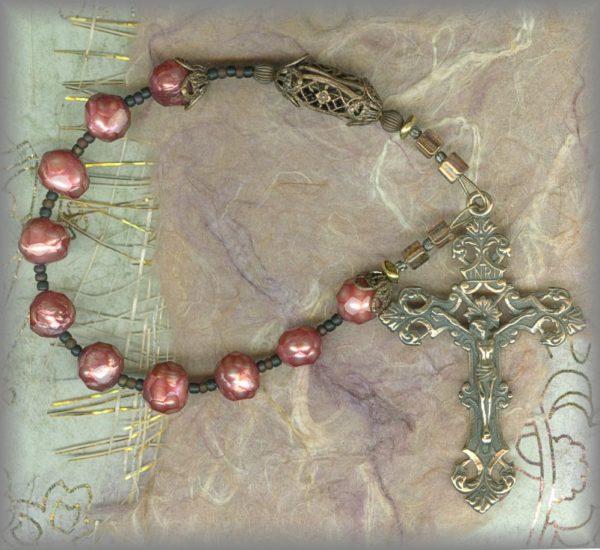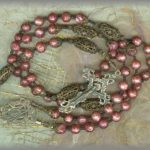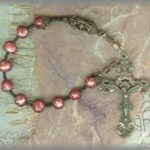 Description
"STILL of the EVENING IV":
AVE BEADS: The rosy copper glow of these faceted Japanese pearls remind us of the evening sky as the sun is about to set and bring on the night.
PATER BEADS: antiqued filigree beads are capped with filigrees to continue the richness of this rosary and giving it an overall look of time, not unlike the early filigree rosaries of the 18 – 9 century.
CRUCIFIX:  LARGE FANCY – antique, France/1880s – (2.25 in.) (same on chaplet)
CENTER: CROWN, AM – antique, origin unknown – (1.25 in.)
---
……19 Evening came, and morning followed ? the fourth day. 20 Then God said, "Let the water teem with an abundance of living creatures, and on the earth let birds fly beneath the dome of the sky." And so it happened: …… 21 God created the great sea monsters and all kinds of swimming creatures with which the water teems, and all kinds of winged birds. God saw how good it was, 22 and God blessed them, saying, "Be fertile, multiply, and fill the water of the seas; and let the birds multiply on the earth." Genesis 1:19-21
---
ABOUT OUR METALS: All medals, crucifixes and centers on our site are hand cast from antiques and vintage pieces in sterling silver and solid bronze then antiqued to restore original patina.
PLEASE NOTE: all metals in image below are the same bronzy color. Differences you see come from the way the light is being caught on the surface of the metals.
---
PRICING SUBJECT TO CHANGE WITHOUT NOTICE (pricing determined by gram wt of precious metal at time of casting)
20% DISCOUNT APPLIED UNTIL GONE:
ROSARY:
BRONZE: ($246) your special price $196.80
STERLING: ($342) your special price $273.60
CHAPLET:
BRONZE: ($130) your special price $104
STERLING: ($198) your special price $158.40
[porto_block name="pricing"]