MADONNA OF TEPEYAC IV ROSARY- Turquoise & Carved Bone – (23 in) – RWSP.21315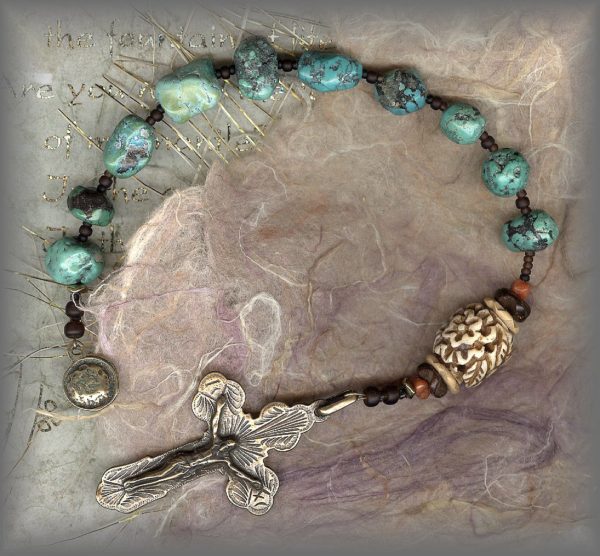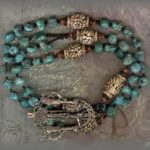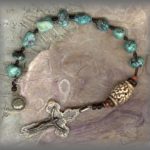 Description
MADONNA of TEPEYAC IV:
AVE BEADS: A beautiful gathering of turquoise stone nuggets, rich in color with their natural matrix.
PATER BEADS: Hand carved antiqued yak bone, each design is different, some include a stylized rose and leaf. Each capped with a carved disc and coral beads. Colors are powerful reminders of the Aztec era and the healing visitation of Our Lady of Guadalupe. Turquoise stone may differ in color depending on individual monitor settings.
CRUCIFIX: LATIN AMERICAN CRUCIFIX – 18c – (2.75 in. incl ring
Rosary is made in the traditional "all one loop" design which does not have a center piece.
CHAPLET CRUCIFIX: ENGRAVED – antique, Russia/1850s – ( 2 in.)
---
……."Praise Him, you highest heavens, and you waters above the heavens' Let them praise the name of the Lord for he commanded and they were created; He established them forever and ever; He gave them a duty which shall not pass away"….Psalm 48:1-5
---
ABOUT OUR METALS: All medals, crucifixes and crosses on our site are handcast from antique and vintage pieces in sterling silver and solid bronze then antiqued to restore original patina.
---
PRICES SUBJECT TO CHANGE WITHOUT PRIOR NOTICE. Pricing subject to gram wt of precious metal at the time of casting. Antique beads very limited, unable to replace.
20% DISCOUNT APPLIED BELOW UNTIL SOLD OUT:
ROSARY:
BRONZE: ($272) your special price $217.60
STERLING: ($336) your special price $268.80
CHAPLET:
BRONZE: ($132) your special price $105.60
STERLING: ($166) your special price $132.80
PRICING SUBJECT TO CHANGE WITHOUT NOTICE: (pricing determined by gram wt of metals at time of casting)