ST. JUDE THADDEUS CHAPLET (II) – Irish Connemara Marble – (9.5 in.) – C9G.51322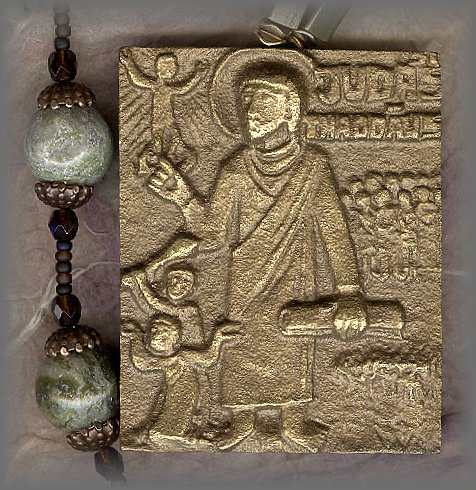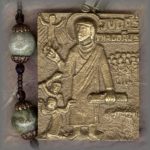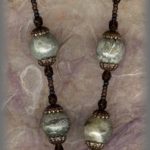 Description
JUDE THADDEUS II: Feast day: October 28
Male Saints Series
BEADS: Mossy green Connemara Marble from Ireland capped with antiqued metals.
MEDAL: ST. JUDE THADDEUS by medalist Egino Weinert.  (Medal 1.5 x 2 inches)
Available in either the traditional 9 bead chaplet (3 sets of 3) or the 10 bead chaplet.
---
TO PRAY THE 9 BEAD NOVENA CHAPLET:  Pray one each: Our Father, Hail Mary , Glory Be, To complete, repeat 3 times.
---
MEDAL: World renowned German artist, Egino Weinert, is a master in the field of sacred gold smithery, as well as a painter and sculptor. He has consigned pieces of art for Cathedrals and Churches throughout the world and is a favorite of John Paul II. Several of Mr. Weinert's original enamel works may be seen in the Galleria Moderna of the Vatican Museum.
---
JUDE THADDEUS II – ISRAEL – (First century AD -) St Jude was often confused with Judas Iscariot of who betrayed Our Lord. But Thaddeus was a near kinsman of Jesus. He authored an epistle to the churches of the East and preached the gospel in Judea, Samaria and many other places. He is patron of impossible situations, reflecting his letter to the new Jewish Christians and is becoming a renewed devotion in the church. Green – traditional color for Jude.
---
ABOUT OUR MEDALS: All medals on our website are hand cast from antiques and vintage pieces in sterling silver and solid bronze then antiqued to restore original patina.
---
PRICING SUBJECT TO CHANGE WITHOUT NOTICE: (pricing determined by gram wt of metals at time of casting)
20% DISCOUNT APPLIED BELOW UNTIL GONE:
BRONZE ONLY: ($182) your special price $145.60
PRICING SUBJECT TO CHANGE WITHOUT NOTICE: (pricing determined by gram wt of metals at time of casting)