St RAPHAEL ROSARY – "NO NEED to FEAR" – Austrian crystal & gemcuts – (26.5 in. – RDGA.2800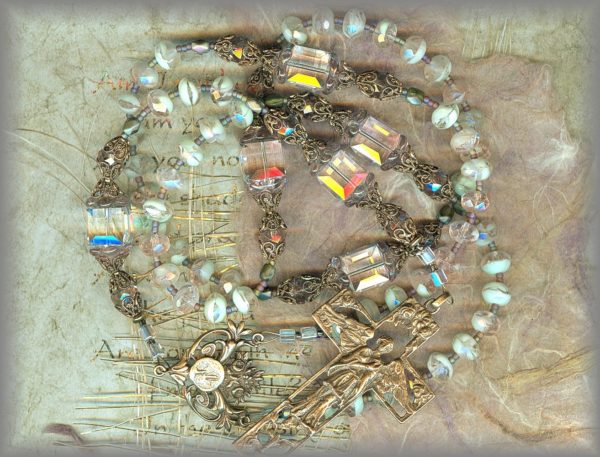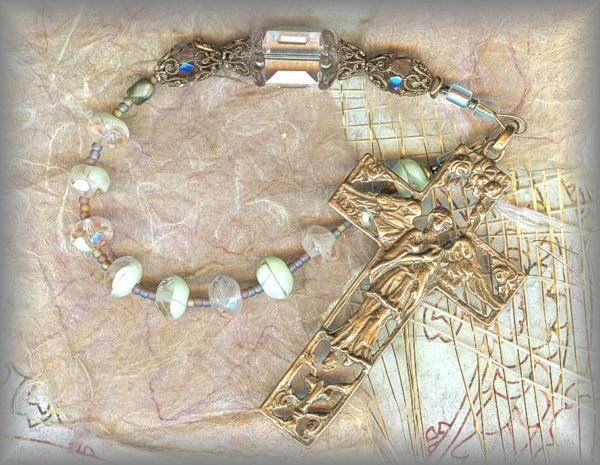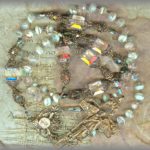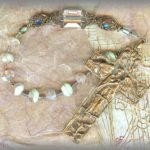 Description
NO NEED TO FEAR I – SAINT RAPHAEL
PATER BEADS: 12mm Faceted clear Austrian, Swarovski, crystal cubes, beautifully capped in antiqued filigree.
AVE BEADS: 8mm Crystal 'gemcuts' faceted to show the inner beauty, translucent inclusions of soft rose and soft moss. No two alike.
CRUCIFIX:  SAINT RAPHAEL FILIGREE CROSS – Europe / 1800s (3 in.)
CENTER: 1860 / LOURDES CENTER – France/1860 – (1.25 x 1 in.)
---
The name Raphael means 'GOD HAS HEALED'. He is one of the 7 angels who stands before God. He is known as the healer, and also the
protector of children. In Tobit he assures them 'no need to fear, you are safe.' And encourages them to thank God, and sing praise to his name.
---
  …  10 Tobit got up and stumbled out through the courtyard gate. Tobiah went up to him  11 with the fish gall in his hand, and holding him firmly, blew into his eyes. "Courage, father," he said.  12 Next he smeared the medicine on his eyes,  13 and it made them smart. Then, beginning at the corners of Tobit's eyes, Tobiah used both hands to peel off the cataracts …. When Tobit saw his son, he threw his arms around him  14  and wept. He exclaimed, "I can see you, son, the light of my eyes!" Then he said: "Blessed be God, and praised be his great name, and blessed be all his holy angels. May his holy name be praised throughout all the ages…. TOBIT 11:2-13
---
ALL OUR MEDALS: All our medals are handcast from antiques and vintage pieces in sterling silver and solid bronze then antiqued to restore original patina.
---
ROSARY:
BRONZE: ($332) your special price $265.60
STERLING: ($510) your special price $408
CHAPLET:
BRONZE: ($158) your special price $124.40
STERLING: ($281) your special price $224.80
PRICING SUBJECT TO CHANGE WITHOUT NOTICE: (pricing determined by gram wt of metals at time of casting)