NORTH AMERICAN MARTYRS SJ ROSARY- antique black & Venetian Awale Beads – (17.5 in) – RTB.21112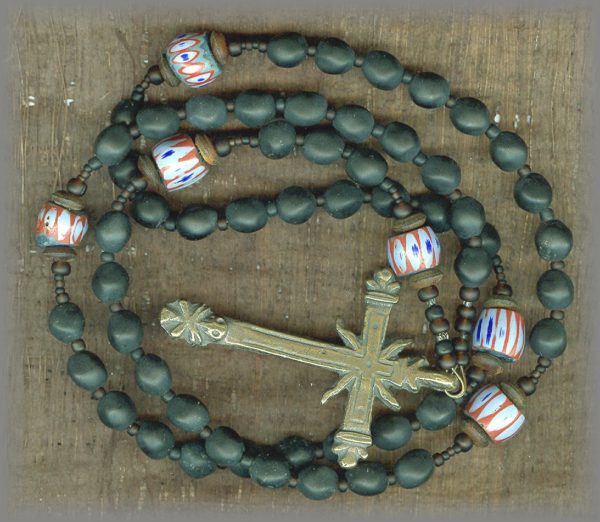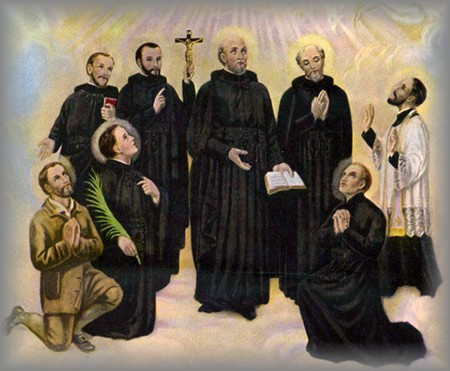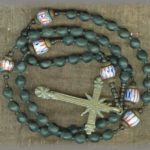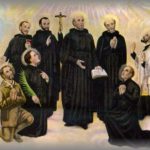 Description
NORTH AMERICAN MARTYRS,
AVE BEADS: 8mm Black matte
PATER BEADS:Awali Chevrons' from Venice. (Late 1800's – eary 1900's.) These beads were used for trade and have been found around old missions sites. No two ever alike.
CROSS OVER 100 YEARS OLD: The cross used on this series is cast from the late 18c Europe
The rosary is made all in one loop following tradition. This design also does not tangle or knot as easily as the pendant design.
---
"The North American Martyrs, also known as the Canadian Martyrs or the Martyrs of New France, were eight Jesuit missionaries from Sainte-Marie among the Hurons, who were martyred in the mid-17th century in Canada, in what are now southern Ontario and upstate New York, during the warfare between the Iroquois and the Huron. The Martyrs are St. Jean de Br?beuf (1649),St. No?l Chabanel (1649), St. Antoine Daniel (1648), St. Charles Garnier (1649),[2] St. Ren? Goupil (1642), St. Isaac Jogues (1646), St. Jean de Lalande (1646), and St. Gabriel Lalemant (1649).
THE BLOOD OF THE MARTYRS IS THE SEED OF THE CHURCH
(Tertullian (c. 160 c. 220 AD)
Ask these Saints to intercede in pray for you. We were inspired to dedicate this rosary to them but encourage you to rededicate to whomever you wish.
---
ABOUT OUR METALS: All medals, crucifixes and centers on our site are hand cast from antiques and vintage pieces in sterling silver and solid bronze then antiqued to restore original patina.
---
PRICING IS SUBJECT TO CHANGE WITHOUT NOTICE (prices determined by gram wt of precious metals at time of casting)
20% DISCOUNT BELOW:
BRONZE:($222) your special price $177.60
STERLING:($262) your special price $209.60
PRICING SUBJECT TO CHANGE WITHOUT NOTICE: (pricing determined by gram wt of metals at time of casting)