PERE JACQUES MARQUETTE SJ – Russian Trade Beads / African – rosary (8 mm – 15.5 in) – RTB.21120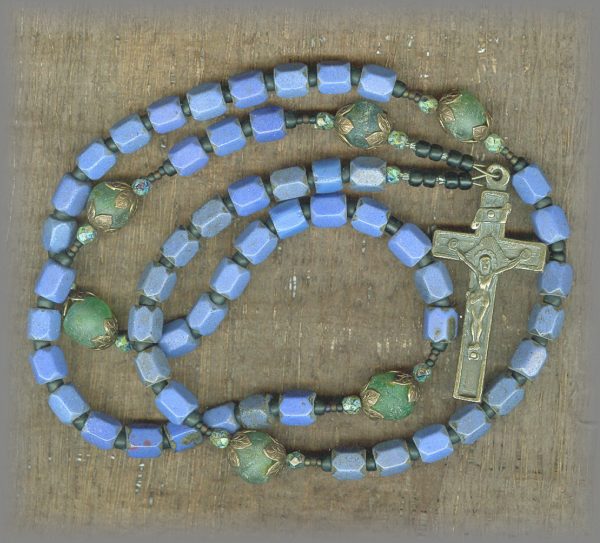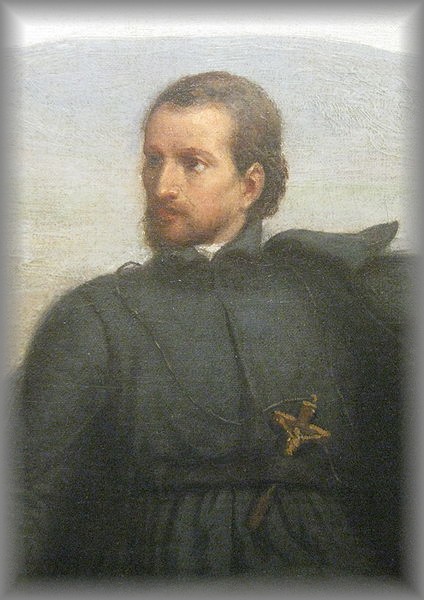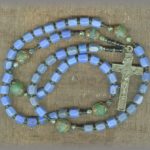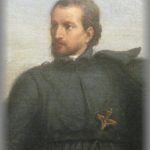 Description
PERE JACQUES MARQUETTE SJ
AVE BEADS: Old Russian"BLUES,  trade beads from Czechoslovakia.
PATER BEADS: African trade – these are not old, but have not changed over the many years. Bead caps are antiqued metal.
CRUCIFIX:  CRUCIFIX WOOD – vintage, Germany/19c – early 20c – (2 in.)
Rosary is made in the traditional "all one loop" design without a center piece.
---
Father (Pere) Jacques Marquette is known for his travels through the Great Lakes area and west to the Mississippi River which he renamed "The river of Our Lady of the Immaculate Conception. He established the mission fur trading post in St Ignace between Lakes Michigan and Huron and was well known by the Indians in the area who became Christians because of his teachings about the true God.
Ask Pere Marquette to intercede for you, for vocations. We were inspired to dedicate this rosary to him and encourage you to rededicate to whomever you wish.
---
ABOUT THE 'RUSSIAN BLUE' TRADE BEADS – (Bohemia – CZ) A bit confusing at best! 'Russian Blues' were popular with the Russian fur traders in the Pacific Northwest fur trade (Bering 1741 discovery and continued through the early 19c until the seal and otter population were depleted. The beads were also popular to the Eastern Fur Traders and excavation sites in So Illinois have yielded Russian Blues. (1700's – 1800's)
---
ALL OUR MEDALS: All our medals are handcast from antiques and vintage pieces in sterling silver and solid bronze then antiqued to restore original patina.
---
PRICING IS SUBJECT TO CHANGE WITHOUT NOTICE (prices determined by gram wt of precious metals at time of casting)
20% DISCOUNT APPLIED BELOW UNTIL GONE
BRONZE:($214) your special price $171.20
STERLING:($236 your special price $188.80
PRICING SUBJECT TO CHANGE WITHOUT NOTICE: (pricing determined by gram wt of metals at time of casting)