PERE PAUL VACHON – Fur Trade beads from Africa – (9 mm – 17.5 in) – RTB.21130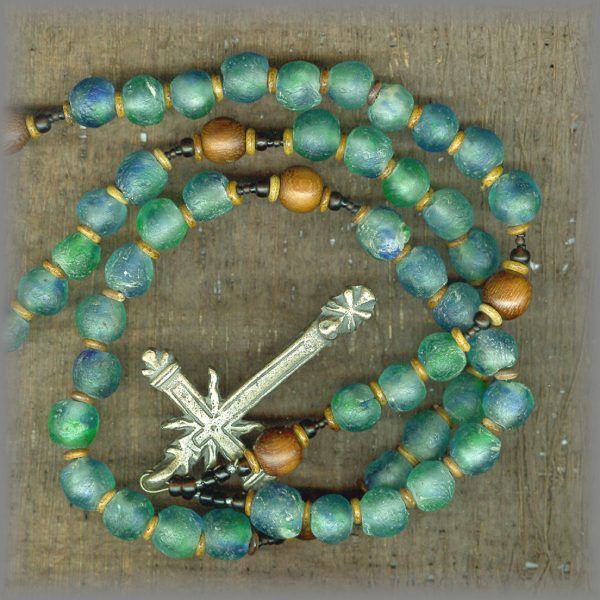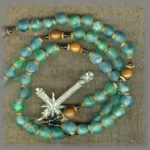 Description
 PERE PAUL VACHON: (1656 – 1729)
AVE BEADS: These are not old but are the same style of primitive, irregular and roughly made glass bead from Africa traded in New France and have not changed much.
PATER BEADS:  Simple wooden beads, typical of many rosaries used by priests.
CROSS:  VICTORY OVER ADAM's SIN – late 1700's – (2.5 in.) Cast from a piece over 100 years old.
Rosary is made in the traditional "all one loop" design without a center piece.
---
Pere Vachon was One of the first priests born in New France (Canadian soil) shortly after the'North American Martyrs' (1642 – 1649) period. He pursued his studies at the seminary of Quebec and at 12 was among the top eight students to enter. He was raised to the dignity of a priest by Mgr de Laval on 21 December 1680. and served the South Coast as far as Cap-Saint-Ignace in 1683, just missing the time of Pere Marquette. He served as Canon of the Quebec chapter in 1684 and in 1692 served as Cure of Cap-de-la-Madeleine. He directed the construction of the Three Rivers Parish, center of pilgrimages in 1717 where he would be buried. When his body was exhumed (1895) they discovered he was perfectly conserved (preserved).
He was born the same year as Kateri Tekakwitha and died from the 'Spainsh Grippe' (a type of measles / small pox) which took the life of so many including her family.
Even though Pere Vachon is a distant relative of Carol's, who is one of our guild members, we believe Pere Vachon represents many of the unsung Priests who served in the early history of the Canadian and North American fur trade and we are inspired by their dedication and love for our Lord, Jesus Christ.
Ask Pere Vachon to intercede for you in your hour of need. We encourage you to rededicate your rosary to whomever you wish.
---
ALL OUR MEDALS: All our medals are handcast from antiques and vintage pieces in sterling silver and solid bronze then antiqued to restore original patina.
---
PRICING IS SUBJECT TO CHANGE WITHOUT NOTICE (prices determined by gram wt of precious metals at time of casting)
20% DISCOUNT APPLIED BELOW UNTIL GONE
BRONZE:($214) your special price $171.20
STERLING:($254) your special price $203.20
PRICING SUBJECT TO CHANGE WITHOUT NOTICE: (pricing determined by gram wt of metals at time of casting)