SEA of COURAGE ROSARY- (Sea of Galilee) -Lampwork (22 in) – RAA.2810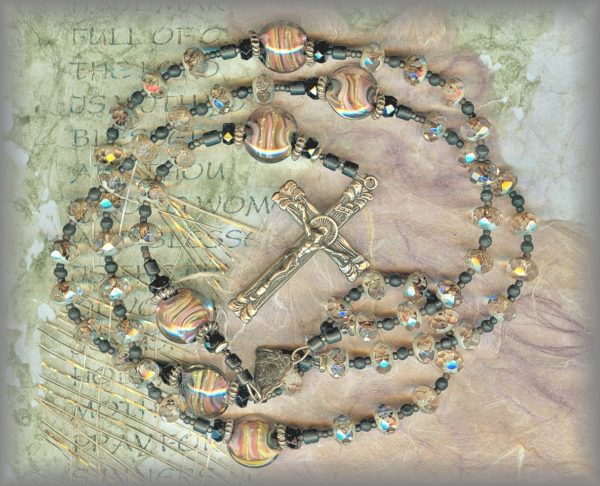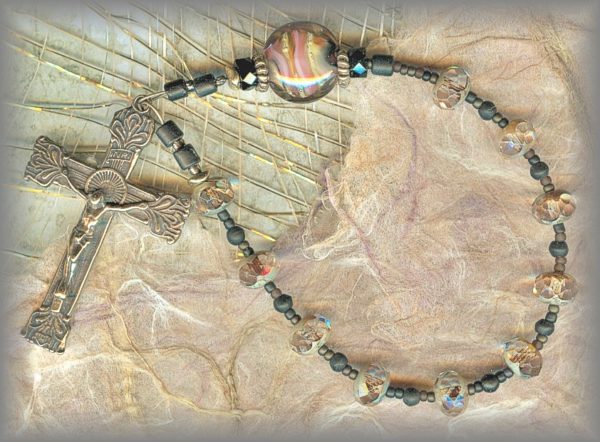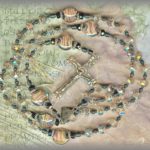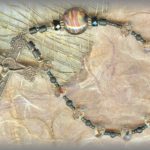 Description
SEA OF COURAGE – CRYSTAL SEA
AVE BEADS:Faceted gemcut crystals with a hint of color appearintg to reflect the colors in the Paters,.
PATER BEADS: Handmade Pater beads are soft swirls of earth tones, clay, sand and lava caught in a stormy, glassy, crystal sea. Unable to show their beauty without holding it up and letting the light play through it and across its surface.
CRUCIFIX & CENTER: LILY – FLORAL ROSARY SET – Europe/1930's – (2 in.)
---
Designed and made by American Bead Artist Grace Ma, we were delighted to see how beautifully her designs tell the story of water as they swirl in earth tones from rose, blue, sand and lava. these Paters are like miniature works of art and no two are ever the same.
---
……49 But when they saw him walking on the sea, they thought it was a ghost and cried out. 50 They had all seen him and were terrified. But at once he spoke with them, "Take courage, it is I, do not be afraid!" 51 He got into the boat with them and the wind died down. They were (completely) astounded…. MARK 6:47-49-51
---
ABOUT OUR MEDALS: All our medals are hand cast from antiques in sterling silver and solid bronze then antiqued to restore original patina.
---
PRICING SUBJECT TO CHANGE WITHOUT NOTICE. (pricing determined by gram wt of precious metal at time of casting)
20% DISCOUNT APPLIED UNTIL GONE:
ROSARY:
BRONZE: ($334) Your special price $267.20
STERLING ($472) Your special price $377.60
WHITE BRONZE($332) -Your special price $265.60
CHAPLET:
BRONZE: ($112) your special price $ (sold out)
STERLING: ($146) your special price $ (sold out)
PRICING SUBJECT TO CHANGE WITHOUT NOTICE: (pricing determined by gram wt of metals at time of casting)