SEA of ENDURANCE ROSARY – (Sea of Azure) Lampwork – (22 in) – RAA.2811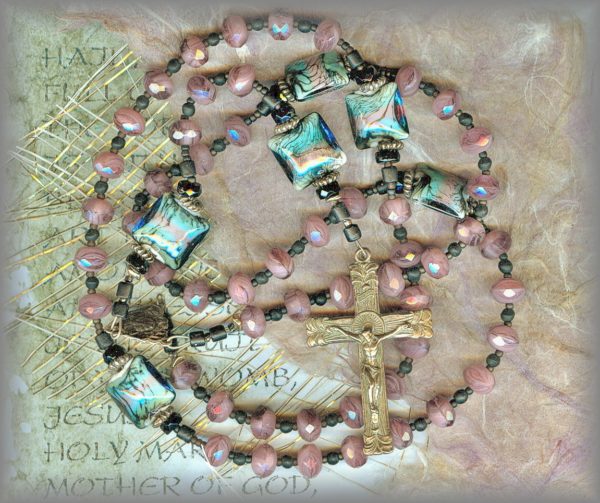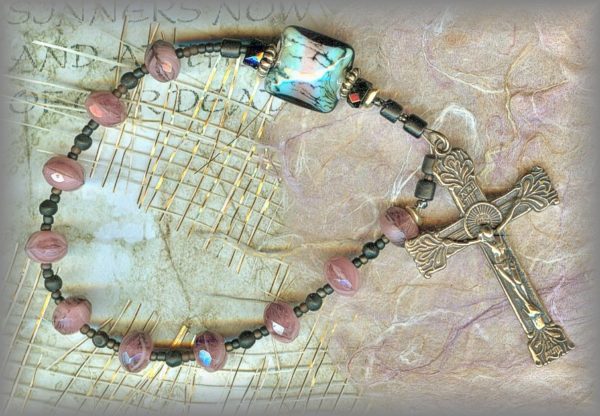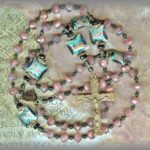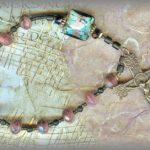 Description
SEA OF ENDURANCE –  AZURE SEA
AVE BEADS: 8mm Faceted 'Gem Cuts' in a light rose that pick up the colors in the Paters.
PATER BEADS: Like mini works of art, each bead teases the imagination to see and azure sea interrupted by fishing nets tossed into the blue sky and capturing rose sunsets. Each hand made bead is by Grace Ma, an American Bead artist.
CRUCIFIX & CENTER: LILY – FLORAL ROSARY SET – Europe/1930's – (2 in.)
---
Designed and made by American Bead Artist Grace Ma. We were delighted to see how beautifully the design on her beads tell the story of water as they swirl in earth tones from rose, blue, sand and lava. These Paters are like miniature works of art and no two are ever the same.
---
…"Rabbi, when did you get here?" Jesus answered them and said, "Amen, amen, I say to you, you are looking for me not because you saw signs but because you ate the loaves and were filled. 27 Do not work for food that perishes but for the food that endures for eternal life, 15 which the Son of Man will give you. For on him the Father, God, has set his seal."….. JOHN 6:24-27
---
ABOUT OUR MEDALS: All our medals are hand cast from antiques in sterling silver and solid bronze then antiqued to restore original patina.
---
PRICING SUBJECT TO CHANGE WITHOUT NOTICE. (pricing determined by gram wt of precious metal at time of casting) Unable to replace when gone.
20% DISCOUNT APPLIED UNTIL GONE
ROSARY
BRONZE: ($334) your special price $267.20
SILVER: ($472) your special price $377.60
WHITE BRONZE ($332) your special price $265.60
CHAPLET
BRONZE: ($112) your special price $89.60
SILVER: ($158) your special price $126.40
PRICING SUBJECT TO CHANGE WITHOUT NOTICE: (pricing determined by gram wt of metals at time of casting)