US NAVY ROSARY- SEA – "Oval Blue Waves" – (27 in) – RFF.21210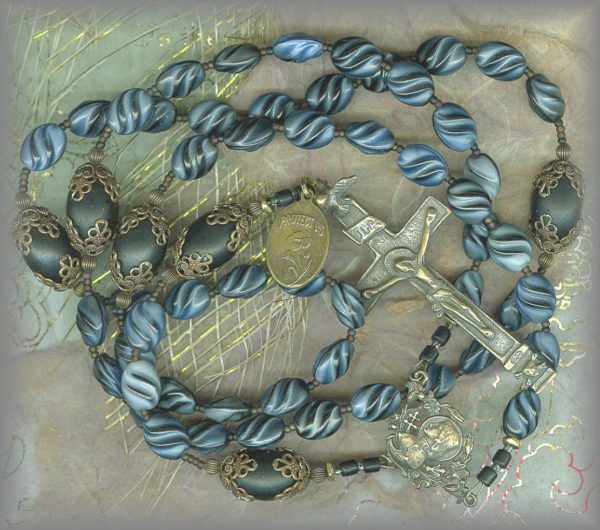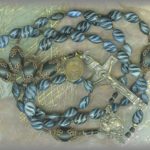 Description
FREEDOM FIGHTERS OF THE SEA – US NAVY, COAST GUARD
AVE BEADS: These old beads (1920-60's – Gablonz-Germany) are a perfect reminder of the rolling sea traveled by our Navy and Coast Guard daily on patrol and in battle.
PATER BEADS: Deep blue called "Montana Blue" in a matte finish. Each Pater is capped with an antique filigree metal to bring out the strength of the hulls and the keels below their feet.
CRUCIFIX: DOVE CRUCIFIX – antique, Russia/19c or earlier – (3 in.)
CENTER: 1910 / ST JOAN CENTER – France/1910 – (1.25 in.wide)
MEDAL: SAINT MICHAEL – vintage, age unknown – (.75 in.)"
---
Inspired by all who sail the seas. We honor our veterans, active members, family members, friends, all, who served above and below the waters of the Atlantic and Pacific Oceans in times of peace and war. Not to forget those who fought in the Battle of Lake Erie (1813), a deciding battle during the War of 1812 for for our freedom from England.
Pleas pray your personal rosary for all who serve, served and died in the NAVY, RESERVES, COAST GUARD & CG RESERVES, MERCHANT MARINES (The Privateers), and for the Navy Chaplains who serve in the Navy and Marines. Pray for the Communion of saints, family members, all – that they continue the fight for freedom from above.
---
ABOUT OUR MEDALS: All our medals are handcast from antiques and vintage pieces in sterling silver and solid bronze then antiqued to restore original patina.
---
PRICING IS SUBJECT TO CHANGE WITHOUT NOTICE (pricing determined by gram wt of precious metal at time of casting)
20% DISCOUNT UNTIL GONE
BRONZE:($296) your special price $236.80
STERLING:($344) your special price $275.20
WHITE BRONZE ($280) your special price $224
PRICING SUBJECT TO CHANGE WITHOUT NOTICE: (pricing determined by gram wt of metals at time of casting)