SP.OPS II (Seal, Delta) – 8 window camo – (8mm – 25 in) – RFF.21540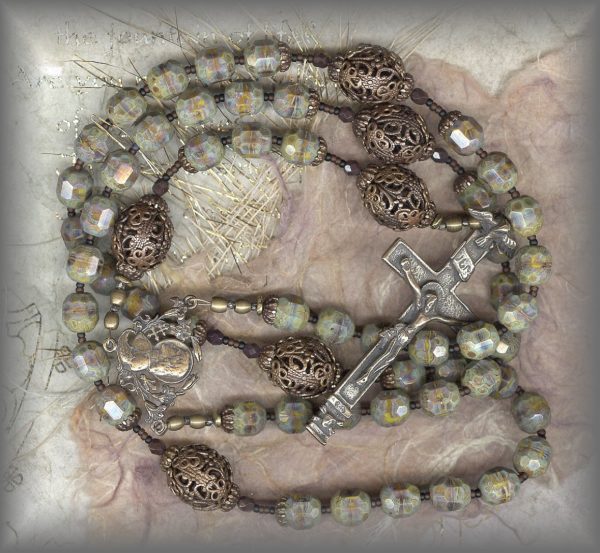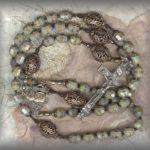 Description
FREEDOM FIGHTERS – SPECIAL OPS
Inspired by our SEAL TEAMS and DELTA FORCE who serve us so bravely.
AVE BEADS: Very limited 8mm 'camo' beads called '8 window' (8 facets)" or 'cathedral windows.
PATER BEADS: 12mm Antiqued metal Filigree beads framed in antiqued caps.
CRUCIFIX: DOVE CRUCIFIX – antique, Russia/19c or earlier – (3 in.) The crucifix includes the tools of Christ's crucifixion on the back. the Holy Spirit hovers over the head of Christ and the skull of Adam rests at his feet.
CENTER:  1910 / ST JOAN CENTER – France/1910 – (1.25 in.wide) (Patron on the Military)
---
HISTORY: SEAL TEAMS: SEALS are a part of the Naval Special Warfare Command (Sea Air Land) operating on Sea Air Land in the war on Terror. Can trace their beginnings to WWII but were formed in 1961). UDT (Under Water Demolition Teams – 1944), Frog Men merged into the Seals. – CIA/Seal Team 6 found and killed Osama bin Laden in Pakistan (May 2011). (Here at the Rosary Workshop, we have 3 family members who served on seal teams.)
DELTA FORCE: A branch of the US Army, Delta Force was formed November 1977. A joint task force including Delta Force found and captured Saddam Hussein (Dec 2003). The Green Berets, Rangers, and Delta Force all report to Army Special Operations Command at Fort Bragg, N.C.
INTERCESSORS: Please pray your personal rosary for all who now serve in harms way. Pray for all our veterans, wounded and those who lost their lives. Ask for their intercession as they are all powerful prayer warriors to this day as members of the Mystical Body of Christ, the Cloud of Witnesses and members of the communion of saints.
---
ABOUT OUR MEDALS: All our medals are handcast from antiques and vintage pieces in sterling silver and solid bronze then antiqued to restore original patina.
---
PRICING IS SUBJECT TO CHANGE WITHOUT NOTICE (pricing determined by gram wt of precious metal at time of casting) .
20% DISCOUNT UNTIL GONE
BRONZE:($416) your special price $332.80
STERLING:($636) your special price $508.80
WHITE BRONZE ($380) your special price $304.
PRICING SUBJECT TO CHANGE WITHOUT NOTICE: (pricing determined by gram wt of metals at time of casting)