US ARMY & MARINE CORP ROSARY (Land) – Camo beads! – (Picasso beads) – (26 in) – RFF.21230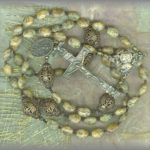 Description
FREEDOM FIGHTERS – LAND – US Army, USMC
AVE BEADS: A CAMO BEAD! A perfect choice for our boots on the ground – these oval shaped beads are called 'Picasso Beads' and are hard to find in such a clear definition.
PATER BEAD: 12mm Metal filigree with antiqued filigree caps.
DOVE CRUCIFIX – antique, Russia/19c or earlier – (3 in.)
CENTER:  1910 / ST JOAN CENTER – France/1910 – (1.25 in.wide)
MEDAL: SAINT MICHAEL – vintage, age unknown – (.75 in.)"
Inspired by all our boots on the ground today, our vets and back through our history, those who protected our freedom we enjoy today. And for all who served in the Chaplin Corps since 1775.
---
CONTINENTAL CONGRESS 1775 CONTINENTAL ARMY: Formed on 14 June
1775, before the establishment of the United States, to meet the demands of the American Revolutionary War. The Congress of the Confederation officially created the United States Army on 3 June 1784.
CONTINENTAL MARINES: In 1775, two battalions of Continental Marines were formed in Philadelphia (Nov. 10) as naval infantry. Its mission grew to serve into every American armed conflict including foreign. Known for amphibious warfare during WWII in the Pacific theater. For those in the UMS – who protect our boarders, including the Texas Rangers (1850) the oldest law enforcement group in our nation.
INTERCESSORS: Please pray your personal rosary for all who now serve in harms way. Pray for all our veterans, wounded and those who lost their lives. Ask for their intercession as they are all powerful prayer warriors to this day as members of the Mystical Body of Christ, the Cloud of Witnesses and members of the communion of saints.
---
ABOUT OUR MEDALS: All our medals are handcast from antiques and vintage pieces in sterling silver and solid bronze then antiqued to restore original patina.
---
PRICING IS SUBJECT TO CHANGE WITHOUT NOTICE (pricing determined by gram wt of precious metal at time of casting)
BRONZE:($292) your special price $233.60
STERLING:($494) your special price $395.20
WHITE BRONZE ($264) your special price $211.20
PRICING SUBJECT TO CHANGE WITHOUT NOTICE: (pricing determined by gram wt of metals at time of casting)