ST PAULS OUTSIDE THE WALLS ROSARY- Amethyst & Silver- (27.5 in.) – RBW.21860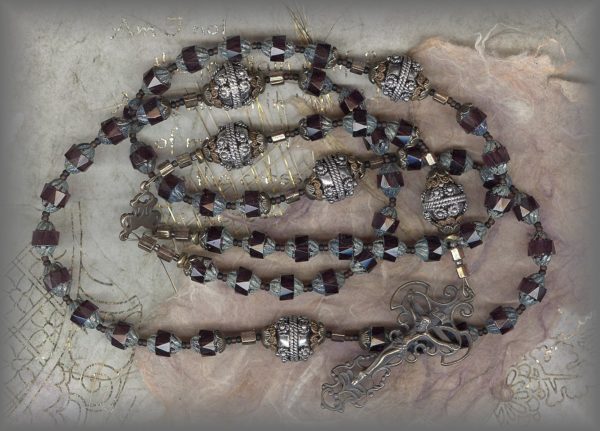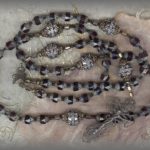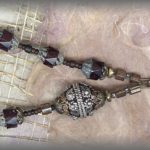 Description
ST PAUL'S OUTSIDE the WALLS II (ROME): BURIAL PLACE OF ST PAUL.
DEDICATED TO THE BASILICAS OF ROME
AVE BEADS: Beautifully faceted 8mm Crystal amethyst beads from Czechoslovakia in a design called 'Cathedral Windows' with granite  ends to create an antique look. Pressed from the design of old glass bead molds. Very fine quality.
PATER BEADS: Rare hand made Filigree silver beads with a history.
CRUCIFIX & CENTER: ITALIAN ROSARY SET – Italy/1930's – (2 in.)
CHAPLET CRUCIFIX:  MEDIUM FANCY – antique, France/1880's – (2 in.)
---
ORIGINAL CHURCH  BUILT IN 5th CENTURY 
The original St. Paul's outside the walls was built in the 5th century on the site of a small chapel which marked the traditional site of Paul's burial in 67 ad.  It was destroyed by a terrible fire in 1823.  An appeal went out to the whole world and people responded by funding its rebuilding.  The records tell us that the Viceroy of Egypt sent alabaster columns and blocks of malachite and lapiz were given by Tsar Nicholas I for the tabernacle. 
HONORING PAUL'S BURIAL PLACE 
On the feast of the Conversion of St. Paul, 01/25/00 , John Paul II opened the holy door of this major basilica which was in keeping with the week of prayer for Christian Unity.  An Ecumenical Celebration of Vespers was shared instead of a Mass, with representatives from many Christian Communities present. We have chosen amethyst to honor this basilica named after Paul because of his zeal for the Lord,  It is a royal color and the Lord uses it lavishly throughout the Old Testament.
---
ABOUT OUR METALS: All crucifixes, crosses, medals are handcast from antiques and vintage pieces in sterling silver and solid bronze then antiqued to restore original patina.
---
PRICING SUBJECT TO CHANGE WITHOUT NOTICE. (pricing determined by gram wt of precious metals at time of casting)
20% DISCOUNT APPLIED BELOW UNTIL GONE
ROSARY:
BRONZE: ($286) your special price $228.80
STERLING: ($372) your special price $297.60
CHAPLET:
BRONZE: ($126) your special price $100.80
STERLING: ($222) your special price $177.60
PRICING SUBJECT TO CHANGE WITHOUT NOTICE: (pricing determined by gram wt of metals at time of casting)