"THEIR VOICES STILL HEARD" ROSARY – Fossilized Shells & Black Lava – (22 in.) – RLS.21352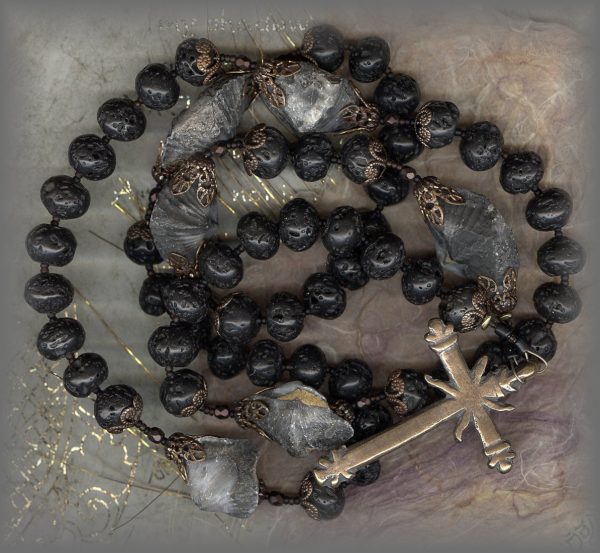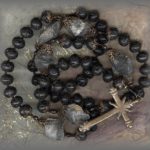 Description
THEIR VOICES STILL HEARD
AVE BEADS: 9 x 12mm black lava rondelle beads make this a large rosary – powerful to hold and to pray, yet shorter than most.
PATER BEADS: Ancient shell fossils from the deep where water once stood? We are learning that most fossils are found in shale, sandstone or limestone. Invaluable for identifying time frames for other finds. Dated through radio carbon to be about 450 million years old. That is before there was life on land! These ancient fossil shells are new to us in bead form. We believe they are called 'bi-valve' or 'brachiopods'. There is something about them that connects us with their maker. Their voices still heard giving glory to God, their creator after 450 million years!
CRUCIFIX: VICTORY OVER ADAM's SIN – late 1700's – (2.5 in.)
Rosary is made in the traditional "all one loop" design without a center piece.
---
ABOUT OUR MEDALS: All crucifixes, crosses, centers and medals are hand cast from antiques and vintage pieces in sterling silver and solid bronze then antiqued to restore original patina.
---
PRICES SUBJECT TO CHANGE WITHOUT PRIOR NOTICE (pricing subject to gram wt of precious metal at time of casting)
Bronze: ($238) your special price $190.40
PRICING SUBJECT TO CHANGE WITHOUT NOTICE: (pricing determined by gram wt of metals at time of casting)