UNTIER of KNOTS ROSARY (II) – Blue Turbans & Wood Knots – (28 in) – RDHF.21520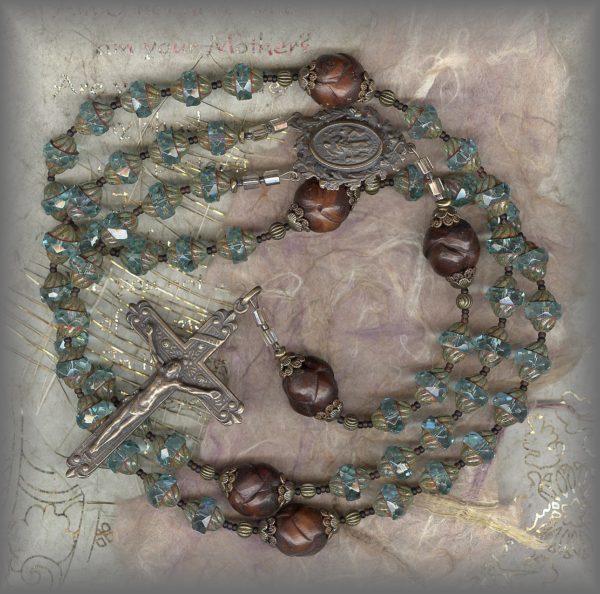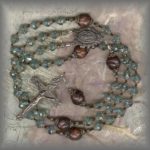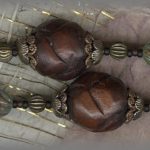 Description
OUR LADY, UNTIER OF KNOTS II: THE KNOT OF EVE'S DISOBEDIENCE
AVE BEAD: 8mm Faceted blue crystals from Czechoslovakia, each with granite ends.
PATER BEAD:Hand-carved wooden knots
CRUCIFIX: LG SAN DAMIANO Crucifix – Europe/19c – (2.5 in.).  A powerful cross, the San Damiano Cross is used on this rosary, remembering this is the cross that St Francis of Assisi chose as his own after hearing the Lord speak to him, asking him to Rebuild his church as it is in ruins.  One look around us today helps us to understand why now he is – Called by God.
CENTER: Mary, Undoer of Knots WREATH I' – filigree wreath – (1.25 in)"
---
Dating back to the teachings of St Paul we learn about the New Adam and the New Eve. And St Irenaeus (120-200) continued this word of mouth, an honored tradition by noting, "And so the knot of Eve's disobedience received its unloosing through the obedience of Mary; for what Eve a virgin, bound by incredulity, Mary, a virgin, unloosed by faith." See more below under New Adam, New Eve.
---
ABOUT OUR MEDALS: All crucifixes, crosses, centers, and medals are hand cast from antiques and vintage pieces in sterling silver and solid bronze then antiqued to restore original patina.
---
PRICES SUBJECT TO CHANGE WITHOUT PRIOR NOTICE. Pricing subject to gram wt of precious metal at the time of casting.
20% DISCOUNT APPLIED BELOW UNTIL GONE
Bronze: ($270) your special price $216
Sterling: ($532) your special price $425.60
PRICING SUBJECT TO CHANGE WITHOUT NOTICE: (pricing determined by gram wt of metals at time of casting)