"ALL BLESSINGS ARE YOURS" ROSARY – Moss Druzy Quartz & Austrian Crystal – (23 in.) – RLS.21333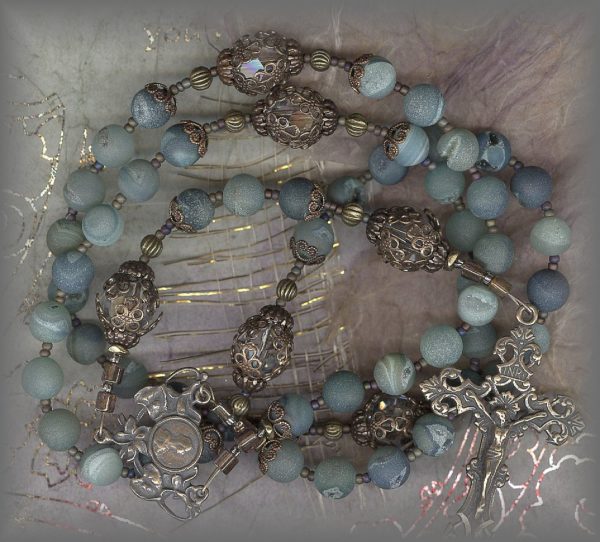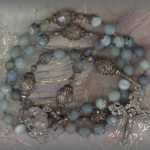 Description
TO YOU ALONE
AVE BEADS: 8mm Mossy green Druzy quartz (crystals) are gemstones, popular as beads as appear like tiny 'geodes' to the eye. Very popular in jewelry, and here, rosaries because of their rare, natural beauty. Formed millions of years ago.
PATER BEADS: 12mm Faceted clear Austrian crystal from Swarovski. Each capped with antiqued filigrees.
CRUCIFIX: LARGE FANCY – antique, France/1880s – (2.25 in.)
CENTER: MARY / LILY (new) – EUROPE / late 19 c – ( 1.5 in.)
---
…..A weapon against the flood waters stored on high, lighting up the firmament by it's brilliance. Behold the rainbow! Bless it's Maker, for majestic indeed is it's splendor. It spans the heavens with it's glory, this bow bent by the might hand of God…..Sirach 43:10-12
---
ABOUT OUR MEDALS: All crucifixes, crosses, centers and medals are hand cast from antiques and vintage pieces in sterling silver and solid bronze then antiqued to restore original patina.
---
PRICES SUBJECT TO CHANGE WITHOUT PRIOR NOTICE (pricing subject to gram wt of precious metal at time of casting) antique beads very limited, unable to replace.)
20% DISCOUNT APPLIED BELOW UNTIL GONE
BRONZE: ($272) your special price $217.60
STERLING: ($384) your special price $307.20
PRICING SUBJECT TO CHANGE WITHOUT NOTICE: (pricing determined by gram wt of metals at time of casting)