SONG of the LAMB ROSARY- Fossilized Coral (Petoski) – (30 in.) – RST.2520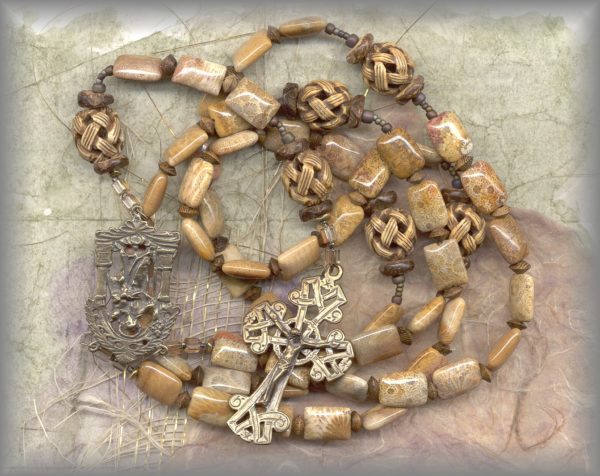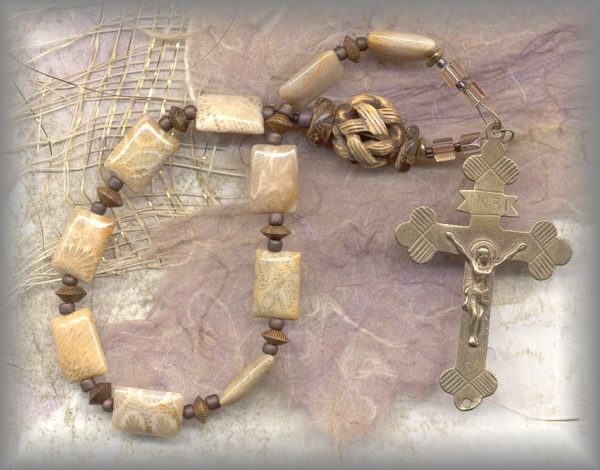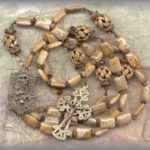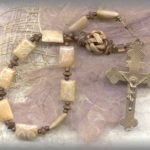 Description
SONG of the LAMB II
AVE BEADS: Fossilized coral(sometimes called Petoski Stone) is a remarkable stone!  If you look closely you will see the fingerprint of ancient creatures embedded in it' surface who lived there eons ago.  It is hard not to marvel over their beauty.
PATER BEADS:  Hand carved antiqued bone beads are hard to find any more and when gone, unable to replace.  They give such richness to the Coral stones. As we string them into a rosary we note that each as a song to sing in praise and glory of its maker, Father God.
CRUCIFIX: CELTIC CRUCIFIX – Ireland, antique/19c – (2.25 in.)
CENTER: GATE of HEAVEN – antique, Spain/19c – (1.75 x 1 in.)
---
…….Then I saw something like a sea of glass mingled with fire. On the sea of glass were standing those who had won the victory over the beast and its image and the number that signified its name. They were holding God's harps, 3 and they sang the song of Moses, the servant of God, and the song of the Lamb: ..Revelation 15:2-4
---
ABOUT OUR METALS: All medals, crucifixes and centers on our site are hand cast from antiques and vintage pieces in sterling silver and solid bronze then antiqued to restore original patina.
---
PRICING SUBJECT TO CHANGE WITHOUT NOTICE. (pricing determined by gram wt of precious metal at time of casting)
20% DISCOUNT APPLIED BELOW UNTIL GONE
ROSARY:
BRONZE: ($340) your special price $272
STERLING: ($584) your special price $467.20
WHITE BRONZE($294) your special price $235.20
CHAPLET:
BRONZE: ($116) your special price $92.80
STERLING: ($182 your special price $145.60
PRICING SUBJECT TO CHANGE WITHOUT NOTICE: (pricing determined by gram wt of metals at time of casting)