GALATIANS – Set Free to Live (DVD, CD, STUDIES-Jeff Cavins and Gayle Somers) – BTL GALATIANS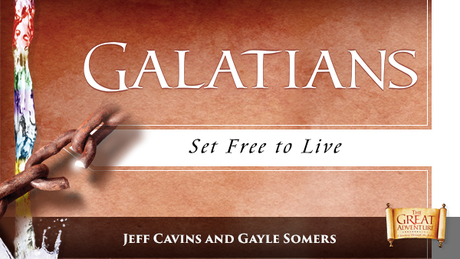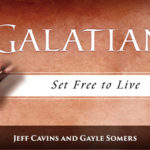 Description
GALATIANS: Set Free to Live, Paul's letter to the Galatians speaks directly to the heart of Christians and addresses the most important question we can ask: "What must we do to be saved", This fascinating letter reveals the merciful love that God the Father has for us, his children. It speaks of the extraordinary gift of salvation that Jesus has won for us, and it explains how we can unite ourselves to Christ"s redeeming sacrifice through faith and love. Galatians is a study that will reignite your love for God as you learn of the astonishing love God has for you.
Your Group Will:
Discover how Christ fulfilled the Law and set us free to live in the Spirit.
Learn what justification means, and how faith and works are integral to it.
Discover how we become heirs to the promises and blessings of Christ through faith.
See how in baptism we are truly made children of God, our loving and merciful Father.
Learn how to live your faith by working in love.
…and much more.
---
AVAILABLE IN TWO FORMATS: DVD or CD (Sessions 50-55 minutes)
DVD* (4 DVDs – 8 Sessions) = $99.95 ONLY (1) IN STOCK
CD (8 CD's – 8 Sessions) = $79.95
In these eight sessions Jeff Cavins provides a captivating overview and explanation of Galatians.
These sessions are just one part of the program. The Galatians Study Set contains the study questions, responses, and talk notes needed for the study.
Sessions included:
Introduction
Galatians 1: An Urgent Appeal
Galatians 2: The Threat of Compromise
Galatians 3:1-12: "The Righteous Shall Live by Faith"
Galatians 3:13-29: "Why the Law"
Galatians 4: "No Longer a Slave, but a Son"
Galatians 5: A New Kind of Freedom
Galatians 6: "Let Us Not Grow Weary in Well Doing"
---
STARTER PACK = $99.00
This pack is what every leader needs to begin Galatians: Set Free to Live. It includes:
4-DVD Set (8, 30-minute videos)
Study Set
Each participant and small-group facilitator should have a Study Set, which includes session overviews, questions and responses, and talk notes. The Study Set is used during each step of the program:
The session overviews and questions are needed for Home Preparation and Small-Group Discussion.
The talk notes are needed during the Video Presentations.
The responses are needed for the Review of Responses.
---
WORKBOOK* = $24.95  ONLY (2) IN STOCK (Old Version – will discount)
This workbook is essential for each participant and small-group facilitator of Galatians: Set Free to Live. It includes:
Session overviews
Engaging study questions
Responses to the questions
Talk notes for the video presentations
---
PRICING SUBJECT TO CHANGE WITHOUT NOTICE:  (Pricing determined by supplier. All final prices will include a 15% discount across the board, which is what we get from supplier & we pass that on to our customers). *All prices do not include additional shipping charges.  Additional drop shipping charges will be added pending charge from supplier. Usually shipped to you within 5-7 business days.  (*Please allow 1-2 weeks from time of order to time of delivery to allow for shipping or holiday delays.)
ALL OUT OF STOCK ITEMS MAY BE ORDERED FROM SUPPLIER (as we have limited items IN STOCK(*) as noted).
Please feel free to contact us for quotes ahead of time at 1-877-695-3561 or email rosaryworkshoptl_02@hotmail.com .
PRICING SUBJECT TO CHANGE WITHOUT NOTICE: (pricing determined by gram wt of metals at time of casting)