UNTIL DEATH DO US PART CROSS (Egino Weinert – Germany) – (3.5 in. H x 2.75 in. W) – GWC.6008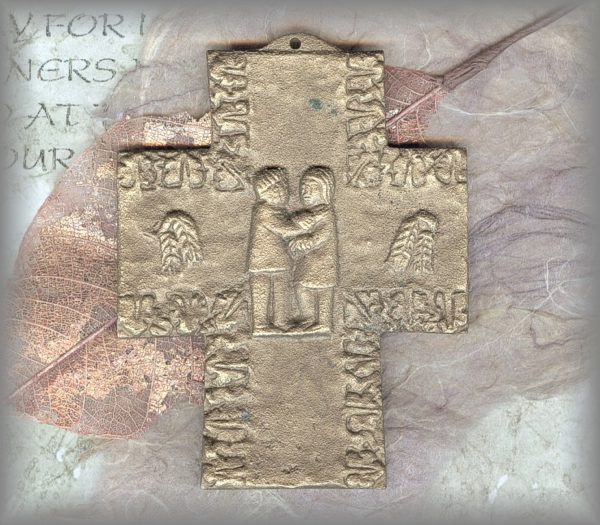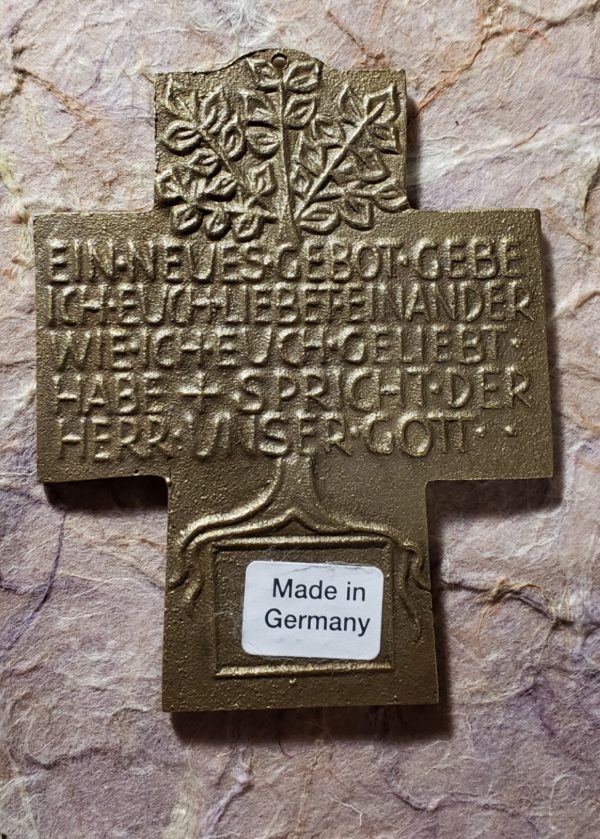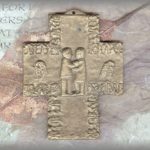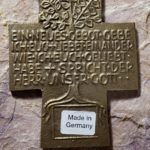 Description
UNTIL DEATH DO US PART CROSS: As in Marriage, a man and woman are tenderly imaged holding hands. The promise to give one's self to another for life, in other words, "to lay one's life down for the beloved until death do us part" is an incredible undertaking. The capacity to love and be loved is the capacity to be most authentically human, to be most fully engaged, to be most fully alive.
The reverse side reads in German: Ein neues Gebot gebe ich Euch. Liebet einander wie ich Euch geliebt habe, spricht der Herr, unser Gott.  Translated: "I give you a new commandment. Love one another as I have loved you, so speaks the Lord, our God."
The words are shown in between a tree trunk of leaves above, and below the roots embrace a box that can be engraved.
A beautiful gift for any special event in a loved ones life! A great gift for anniversaries, birthdays, weddings, Mother's day or Father's day.
---
ABOUT EGINO WEINERT: World renowned German artist, Egino Weinert, is a master in the field of sacred gold smithery, as well as a painter and sculptor. He has consigned pieces of art for Cathedrals and Churches throughout the world and is a favorite of John Paul II. Several of Mr. Weinert's original enamel works may be seen in the Galleria Moderna of the Vatican Museum.
Part of our Creator Mundi Collection.
---
PRICING SUBJECT TO CHANGE WITHOUT NOTICE: (pricing determined at time of casting)
AVAILABLE IN BRONZE ONLY:
GWC.6008 = $39 (Regular) Your Special Sale Price $35
ONLY (3) LEFT IN STOCK (AVAILABLE TO BACK ORDER – ALLOW 1-2 WEEKS)
*NOTE:  THIS PRODUCT MAY REQUIRE ADDITIONAL POSTAGE FOR SHIPPING, DUE TO THE SIZE & WEIGHT OF THE ITEM. (It may have to be shipped USPS Priority Mail instead of First Class Mail) If so, you will be quoted the price in your order confirmation. 
(actual size: 3.5 in. H x 2.75 in. W)
PRICING SUBJECT TO CHANGE WITHOUT NOTICE: (pricing determined by gram wt of metals at time of casting)